Woman Arrested After Leaving 2 Children in Hot Car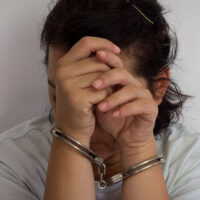 In late August, an officer discovered Larissa Rivera, 28, left her two children alone in a hot vehicle while she was inside a bar. The officers found a boy and girl, roughly 3 and 6 years of age, inside a Ford Focus parked near Butikin Bar on International Drive. The vehicle was left running, however the air conditioning was not on. Both children were dressed in long-sleeved pajamas. The temperature in the car was in the 80s. The daughter was sweating and the young boy was warm to the touch. Neither child was injured or required medical attention.
According to the officer's report, Rivera came out of the bar and addressed the officer, identifying herself as the children's mother. She stated she frequently goes to this bar and she watched the vehicle from a window and other customers would check on the children. Witnesses at the bar state the children had been alone in the vehicle for approximately 30 minutes.
Rivera was arrested on suspicion of leaving a child in a motor vehicle unattended and the Florida Department of Children and Families were notified.
Leaving Children Unattended in a Motor Vehicle in Florida
Under statute 3126.6135, it is illegal for a parent, legal guardian, or any other adult responsible for a child younger than 6 years of age to leave the child unattended or unsupervised in a motor vehicle for longer than 15 minutes or for any period of time if the motor is running, the health of the child is in danger, or the child appears to be in distress.
If the child is not in distress but is left in the vehicle for more than 15 minutes, the adult may face a second-degree misdemeanor, punishable by up to 60 days in jail and a $500 fine. If the child is left in a running vehicle, is in danger, or is in distress, then the charge is a noncriminal traffic infraction, punishable by a fine between $50 and $500. If the adult leaves a child alone in a car and causes great bodily injury, permanent disability, or permanent disfigurement, then they will be charged with a third-degree felony.
The Dangers of Leaving Children Alone in Cars
The reason for such a strict law is that leaving children in cars alone is very dangerous. While there is always a fear of kidnapping or abuse by strangers, the greater risk is the environment. Vehicles heat up extremely quickly. If the temperature is 70 degrees Fahrenheit outside, then within 10 minutes the vehicle could be as high as 89 degrees. If the outside is 80 degrees, within 10 minutes the inside temperature could be around 100 degrees. Ultimately, at least 39 children died of vehicle-related heatstroke in 2016. So far, 33 have died in 2017.
Contact Our Orlando Criminal Defense Lawyers for Help
If you are facing charges for leaving your child in a vehicle alone, contact our experienced Kissimmee defense attorneys of Salazar & Kelly Law Group, P.A. as soon as possible. We understand parents face difficult choices each day, and sometimes, it is easier to let your children stay in a locked, parked car than to handle a potential tantrum in a store. We will defend you to the best of our abilities and work with social services to keep your family together.
Resource:
orlandosentinel.com/news/breaking-news/os-mother-bar-kids-hot-car-20170821-story.html