Teens in Stolen Vehicles Cause Fatal Crash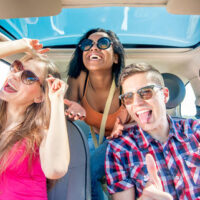 Three teenagers were killed and another was injured after they stole a vehicle and collided with a car at U.S. 19 and Tampa Road. The driver of the other vehicle, Ricky Melendez, 29, was injured but is expected to make a full recovery.
According to the Pinellas County Police, these teenagers were known to steal vehicles at night for joyrides. In the early hours of August 6, a total of six teenagers stole a Ford Explorer and Chrysler Sebring from a Clearwater parking lot. They were then racing and driving at high speeds around the area, and police were already on the lookout after being notified of the stolen vehicles. Before the police could apprehend the teens, the Explorer, moving at more than 100 mph, ran a red light on Tampa Road and collided with Melendez's vehicle. Three of teenagers in the Explorer were killed in the crash. The fourth was injured. The two teens in the Sebring were later arrested.
Teenagers Face Criminal Charges
The three surviving teens face a number of criminal charges. The two adolescents in the Sebring have already been charged with grand theft auto and resisting arrest without violence. However, the surviving teen from the deadly crash can expect much harsher chargers. In addition to theft charges, he or she could be charged with a violent crime or reckless driving because of causing a crash that led to another person's injuries.
It is likely the surviving teen will face multiple criminal charges when he or she recovers. Depending on his or her age, these charges could be brought forward in the adult criminal system and not the juvenile courts. In Florida, teenagers can be charged as adults based on prosecutor's discretion – and Florida transfers more adolescents to adult courts than any other state.
If he or she has a criminal record, the punishment for these offenses could be even harsher. With a criminal background and now a fatal accident, a judge or jury may not look kindly on the surviving defendant. He or she could face maximum sentencing if there are no factors to warrant leniency.
Defending Against Multiple Criminal Charges
Adolescents who face multiple criminal charges for offenses that led to injuries or death should contact an experienced Orlando criminal defense attorney as soon as possible. It is never too soon to begin to protect their rights, build a defense strategy, and advocate for leniency. In situations like these, teenagers need attorneys who will tenaciously fight for a fair and compassionate outcome to their cases.
Our experienced defense attorneys can work with prosecutors to keep a teenager's case in juvenile court. If the adolescent has turned 18, then our lawyers will aggressively fight to minimize the consequences of a conviction, particularly focusing on reducing the amount of time an adolescent spends in prison. We believe mistakes, made at a young and misguided age, should not cost an adolescent their entire life and future.
Contact Our Orlando Criminal Defense Lawyers Today
If you are facing criminal charges as a teen or your son or daughter has been arrested, do not hesitate to call Salazar & Kelly Law Group, P.A. at 407-483-0500. Our Kissimmee criminal defense attorneys are eager to assist you today.
Resources:
wtsp.com/news/local/pinellascounty/3-people-dead-in-pinellas-county-crash/462291127
tampabay.com/news/courts/florida-leads-nation-in-locking-up-kids-in-adult-jails/1051218