How You Teach Your Teen to Drive Can Have Major Consequences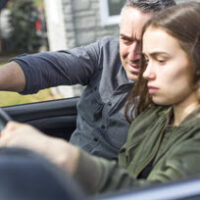 A 14-year-old was practicing his driving with his family in the car when he caused a one-vehicle accident on Interstate-4 in mid-April. The teen was driving a 2000 Ford Explorer with six other individuals in the vehicle when he attempted to change lanes, over-corrected to avoid a collision, lost control of the vehicle and collided with a barrier wall. Four children between the ages of 3 and 16 were sent to the hospital as well as two adults. The driver and the two adults suffered serious injuries while the 16-year-old passenger suffered minor injuries. As of the day after the accident, the children involved had been discharged from the hospital and the adults were in stable condition.
Teen Faces Charges for Accident
As of the weekend of the crash, the adolescent driver faced charges for driving without a license (Florida Statute 322.03) and careless driving (Florida Statute 316.1925). If he goes through the juvenile court system, he could be adjudicated a delinquent teen and sanctioned. If he were to be charged as an adult, he could face harsher consequences, including jail time, probation, and fines.
Getting Teens Behind the Wheel Safely
Parents have to teach their younger children to drive at some point. It is a task that usually starts when teens are 15 years old and eligible for their learners permit, which entitles them to drive with an adult in the car with them. Parents can put their kids behind the wheel and head out without much preparation, When it comes time for adolescents to learn to drive, parents should consider the following:
Make sure your child obtains his or her learner's permit. A Florida learner's permit requires your teen to learn the rules of the road, complete Florida's DATA course, and pass the written DMV test. Your child should not get behind the wheel until you are confident they know the rules.

Help your child learn more about vehicles. Teens often get behind the wheel for the first time knowing very little about how vehicles work. Get them familiar with all of the buttons and gadgets in the interior. Next, get them involved with the maintenance of the vehicle. They should understand the major working systems and how they need to be cared for to keep the vehicle functioning efficiently and safely. Show them how to check the oil, refill windshield wiper fluid, and change a tire.

Let your teen conquer parking lots first. For the first driving lessons, go to an empty large parking lot on a Saturday or Sunday. This can give your child plenty of practice stopping and starting, making right and left hand turns, and parking.

Keep your teen on quiet backstreets for a while. Once you are confident your child is a little more comfortable behind the wheel and can handle turns, take them out onto quiet backstreets and neighborhood streets. This can give them more realistic practice than a parking lot before putting them into heavier traffic. Consider mapping out a route so your child understands the plan and you are not telling them to turn at the last minute.

Avoid all distractions. Adolescents are easily distracted, so when your teen is learning to drive, avoid bringing additional passengers, keep conversation to a minimum, and leave the radio off.

Build up to the highway. Make sure your teen has dozens of hours of driving experience before going onto the highway or interstate. Also, when it is time to tackle the highway, make sure to choose one at a time when you know it will not be bumper to bumper traffic. Concentrating on teaching your child to keep a proper speed and distance and carefully change lanes.

Practice consistently. Your child has to have their learner's permit for 12 months before applying for a driver's license. Over this year, take your child out to practice driving consistently, such as every weekend. The more practice they have before driving alone, the better.
Call Us For Help When Your Teen Faces Charges
If your adolescent faces charges for driving without a license or causing an accident, contact the Orlando criminal defense attorneys of Salazar & Kelly Law Group, P.A. We can help you face this difficult situation and protect your child's rights and future.
Resources:
leg.state.fl.us/statutes/index.cfm?App_mode=Display_Statute&URL=0300-0399/0322/Sections/0322.03.html
abcactionnews.com/news/local-news/14-year-old-charged-with-driving-without-license-careless-driving-in-crash-sending-7-to-hospital
leg.state.fl.us/statutes/index.cfm?App_mode=Display_Statute&URL=0300-0399/0316/Sections/0316.1925.html