Hurricane Season And Insurance Issues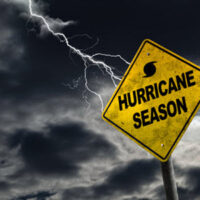 With hurricane seasons becoming longer and more devastating, Florida residents are exposed to more chances of injury and death, as well as more financial risk than ever before.  The National Oceanic and Atmospheric Administration (NOAA) predicts that 2022 will have anywhere from 14 to 21 storms that are named, and as many as half of them will be hurricanes. Colorado State University's numbers were about the same, and their researchers believe that at least four of the hurricanes will be major ones.
Be Prepared 
It's critical for Floridians to be prepared for the power and girth of hurricanes this, and every year.  That means:
Have an evacuation plan: In addition to having a route in mind, have critical documents secured and be sure to make a plan for your pets. If and when you need to evacuate, listen to government announcements and try to get a jump on the weather and traffic.
Protect your home: Have sheets of plywood and heavy plastic as well as basic tools handy to put up a defense against the weather. If possible, use tempered glass for sliding glass doors and make sure exterior doors are wind-rated and have deadbolts.  Trim trees and minimize the number of things in the yard that could be blown around and might cause damage.
Stock up on emergency supplies: In the event an evacuation is not recommended, you may be stuck in your home for quite a bit of time without help. Make sure you have a couple of weeks' worth of non-perishable foodstuffs and drinking water, as well as prescriptions, first aid materials, batteries, comfort items like games and toys, flashlights, candles, matches, and other common-sense items.
Inventory personal property: Photograph or video your property so you can demonstrate losses to your insurance company if necessary.
After the Hurricane 
If the hurricane does cause serious property damage, you will be looking toward your insurance company to help you rebuild. If you have comprehensive insurance on your vehicles, it will cover damage–even flooding– to them.  Unfortunately, regular homeowners' insurance won't cover the hurricane damage, so hopefully you have a hurricane rider.  Even then, most policies will only cover damage caused by wind, rain, hail, and sleet.  However, oftentimes the biggest damage comes from rising floodwaters, and you can count on a battle to get it covered.  Because insurance companies are in the business of making money, they frequently do whatever they can to dodge payouts.  In that case, you may need an experienced hurricane attorney.
The Rebuild 
Surviving a hurricane can be a frightening experience. Many people come out of it hoping to put the whole experience behind them, only to find reconstruction an uphill battle due to problems with their insurance company.  At Salazar & Kelly Law Group, our Kissimmee hurricane attorneys are ready to assist immediately in the aftermath of a disaster.  Contact us the minute you sense there's going to be a problem with the insurance company to get the help you need.
Source:
nbcmiami.com/news/local/noaa-predicting-above-normal-2022-atlantic-hurricane-season/2768344/