Semi Accidents On The Road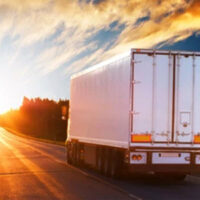 When a semi-truck & trailer made a wide turn on a Kissimmee highway, it cut off an SUV and caused a collision that put the SUV's driver and three kids in the hospital. Fortunately, none of the injuries were life threatening.  Nevertheless, the incident reminds us of just how careful drivers must be when big rigs are on the road.
Challenges for Big Rigs 
Truck drivers face multiple challenges, not the least of which includes long hours, lack of sleep, and maintenance issues with their vehicles. The sheer size and weight of their trucks presents unique difficulties that can impact their safety, and yours.
Reduced visibility: Vehicles that travel right behind or next to a big rig may find themselves invisible to the truck driver.  That's because their blind spot is huge, leaving drivers unable to see you, let alone anticipate your moves.
Exaggerated turns: In an effort to keep their trailers on the road, truck drivers need extra room to negotiate a turn. After all, a single trailer can be over 50 feet long!  Add that to the length of the cab, and tack on a second trailer, and can imagine the challenge of making turns safely. A right turn often puts them across two lanes, which makes vehicles in even the far lane at risk of a collision, as happened in the Kissimmee event.
Center of gravity: Roll-overs are of particular risk due to the high center of gravity in these tall vehicles.  That makes it especially difficult to maneuver in traffic, while turning, or while backing up.
Braking distance: These rigs can weigh several tons—much more than passenger vehicles driven by the average citizen.  While your 3,000-4,000-pound vehicle, when driving along at 65 MPH, requires roughly the length of a football field to come to a stop, at 80,000 pounds, requires twice that distance. In addition to the weight and length of big rigs posing an issue, it must be noted that they utilize air brakes, which are much slower to respond than the hydraulic brakes common in passenger vehicles.
Gears: Many people probably don't realize that these rigs have complicated transmissions with as many as sixteen gears.  A truck driver is always busy.
Communication: Truckers are on the radio a lot!  Radio communications, like other distractions, can take a trucker's attention off of the road momentarily, exacerbating all of the other risk factors they face.
Following an Accident
 If you are involved in a collision with a big rig, chances are you got the short end of the stick since you were hugely outsized. Yes, truckers have unique challenges on the road.  But when they fail to drive safely and it leads to serious personal injury, they, or their companies, may be liable for damages.  To discuss the possibilities, contact the Kissimmee personal injury attorneys at Salazar & Kelly Law Group, P.A. for a confidential consultation in our office today.
Source:
clickorlando.com/news/local/2022/07/19/one-man-three-children-injured-in-kissimmee-crash-troopers-say/