The Tragedy Of Hit And Run Accidents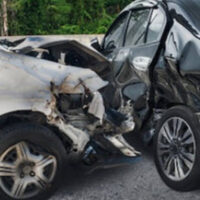 It was a horrendous accident—one that literally split a '96 Chevy Impala in two.  According to Miami officials, an Infinity was barreling down 7th Avenue when it smashed through the Impala, slamming it into a third vehicle and ejecting the driver, who was pronounced dead at the scene.  A passenger in the Impala was hospitalized with serious injuries.  The driver of the Infinity?  He sped off, only to return hours later with friends who all rummaged through the car before taking off once again.  Although surveillance video captured the whole thing, the perpetrator of this reckless and cruel event remains at large.
Suffering Abounds 
The costs of hit-and-run accidents cannot be understated.  The human suffering associated with knowing that your loved one was left bleeding in the street is immeasurable. In many cases, victims are denied access to care simply because the accident occurs in a remote area and the accident is not discovered for a period of time. Other times, while hospitalization occurs fairly quickly, families still must cope with the fact that another human being was callous enough to leave without offering assistance.  Even when property damage is the only effect of the crash, it is difficult to imagine what motivates someone to leave the scene of an accident.
Motives Explored 
Hit-and-run incidents are on the rise, with one happening every 43 seconds across the nation. That's about 800,000 such events every year, 2,000 of which result in fatalities. While it may not be possible to definitively profile hit-and-run drivers, AAA has analyzed offenders who were eventually ID'd, and says there is a fairly strong likelihood that drivers share at least some of the following characteristics:
Younger drivers;
Male;
Drivers with a suspended license due to a previous DUI;
Individuals who have an elevated blood alcohol level at the time of arrest;
Drivers of older vehicles;
Individuals with a low socio-economic status.
So what makes these people flee the scene?  There could be any number of motivations, from sheer panic to fear of consequences like fines and time behind bars. Some drivers may weigh the risks of staying against the potential of getting away with dashing off. Others know that they are inebriated and the penalties for causing an accident would be severe, so they figure leaving the scene is their best option. One study asserts that drivers who are most likely to take off are those who view themselves as being at fault.  Finally, some drivers are too drunk to make rational decisions of any kind and just act on instinct.
Are Hit-and-Run Drivers Ever Apprehended? 
Sadly, only about half of hit-and-run drivers are ever located.  Accidents that occur during daylight hours generally have more witnesses than nighttime accidents, and those drivers are most likely to be caught at some point.  Likewise, runners in rural areas are more likely to be discovered than those in urban zones, and accidents harming children and women are more likely to be resolved than those involving men.
Penalties 
When apprehended, those who evade the scene face serious consequences, which escalate based on the seriousness of the event:
| | | |
| --- | --- | --- |
| Outcome of Accident | Incarceration | Fines |
| Property Damage Only | 60 days | $500 |
| Injuries | 5 years | $5,000 |
| Fatalities | 4-30 years | $10,000 |
Responding 
If you or a loved one has been harmed or killed in a hit-and-run incident, you want an experienced Kissimmee car accident attorney and experienced investigative team on the case.  Contact us at Salazar & Kelly Law Group, P.A. today for a confidential consultation.
Resources:
flhsmv.gov/safety-center/driving-safety/hitrun/
aaafoundation.org/wp-content/uploads/2018/04/18-0058_Hit-and-Run-Brief_FINALv2.pdf
nbcmiami.com/news/local/video-captures-group-fleeing-scene-of-deadly-hit-and-run-crash-in-miami-last-february/2543050/