Tractor Trailer Accidents In Florida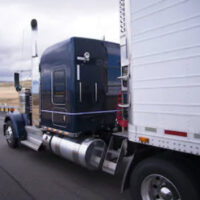 Any accident is frightening, but perhaps nothing is more hair-raising than seeing a tractor-trailer barreling toward you.  Here in Florida, these accidents are far too common, resulting in property damage, injuries, and loss of life.
A Few Statistics 
Just 4 percent of registered vehicles on the road are large trucks, yet they are involved in 10 percent of all fatal collisions. More than 5,000 fatalities occur as a result of these incidents, in addition to another 120,000 injuries. The ratio of injuries for those in other vehicles compared to the truckers themselves in these accidents is well over 5:1. Sadly, these kinds of accidents have been increasing for over more than a decade.
2021 Incidents in Florida 
Recent months in Florida have seen their fair share of such accidents.  Just a sampling of these events includes: 
July 2021: When a big rig smashed into a couple of vehicles and plummeted into a canal near Boynton Beach, the drivers of both vehicles were killed. Another woman in a third vehicle associated with the crash experienced minor injuries.
August 2021: The driver of a tractor-trailer who failed to slow down enough in a logjam on I-75 crashed into another tractor-trailer, resulting in the death of the first driver
March 2021: When a tractor-trailer slammed into a patrol car that had pulled over to assist a disabled car, the patrolman and a couple of teens narrowly escaped death, instead suffering just minor injuries. 
Preventing These Incidents 
What can you drivers do to avoid these kinds of terrifying and dangerous accidents?  Some common sense tips might help:
Understand that these rigs have particular limitations due to their size and weight, and treat them differently from other vehicles on the road. Give them more space to slow down or come to a stop by making sure you keep lots of distance between you and them.  By all means avoid turning in front of them or cutting into the lane ahead of them.
Stay out of their blind spots. If you can't see the driver in his mirror, he can't see you.
Be particularly careful during inclement weather.
Adhere to posted speed limits.
Use your turn signal to allow others to anticipate your moves.
Keep your vehicle in good working condition.
Make sure you are alert and focused on your driving.
Pay especially close attention in work zones.
Be patient and avoid road rage.
In the Aftermath 
An accident involving a tractor-trailer or other big rig can be frightening, costly, and even deadly.  If you or a loved one has endured this experience, contact the experienced Kissimmee personal injury attorneys at Salazar & Kelly Law Group, P.A. to explore the possibilities today.