Deadly Left Turns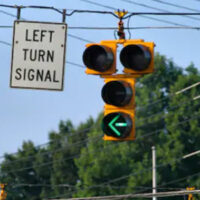 When Clifford Worme took a vehicle from the dealership out for a test drive, he could not have known that it would result in the death of his 76-year-old wife. But as he negotiated the left turn back into the dealer's parking lot, another motorist that was traveling straight smashed into the Wormes, flipping the vehicle before it rested on the side of the road upside down. Mr. Worme suffered only minor injuries; both the salesman in the back seat and the driver of the other vehicle were unharmed.  But Mrs. Worme was dead.
The Problem with Left Turns 
Research indicates that more than six in ten traffic accidents that occur in intersections are related to left-hand turns. That's because the maneuver puts motorists in the line of oncoming traffic, more often than not at the driver's own discretion. And drivers everywhere can agree: when there are turning signals, the yellow lights are far too short. Turning vehicles, however, are not the only ones at risk in intersections.  Studies show that bicyclists and pedestrians are in danger, as well.  Here's what we know about left turn crashes:
Crashes involving left-turning vehicles are the third most frequent type of accident;
These crashes result in more serious injuries than most other types of crashes (excluding head-on collisions);
At least three times more pedestrians are killed by left-turning vehicles than by those turning right;
When cars turn left, they are typically going faster than when they turn right;
Driver's vision is obscured by the A-Pillar in many cars during left turns, putting pedestrians and cyclists at risk.
The Solution 
Penn State scientists have determined that the best solution to the left turn problem is to eliminate them as much as possible. That means better planning  and engineering that provides drivers with a safe way to get where they need to go.  Instead of one left, three right turns could accomplish the same outcome with only slightly greater inconvenience (though potentially faster results and definitely significantly less risk). It's sort of a cousin to the cloverleaf design on many highways across the country. Consider the diagram:
UPS has already changed driver routes in an attempt to reduce left-hand turns, resulting in not only fewer accidents, but also a savings of 10 million gallons of fuel; saved because vehicles avoid sitting and idling in turn lanes.
When You're the Victim of an Accident 
Of course, left turns are a necessity in most cities, meaning you're at risk of an intersection crash on the road.  And crashes can happen anywhere, any time.  Oftentimes collisions result in serious injuries, leading to significant financial encumberments.  If you or a loved one has been injured or killed in an accident that was the fault of a careless or reckless motorist, you may be entitled to damages to address those encumberments.  To discuss the possibilities, schedule a confidential consultation with the experienced Kissimmee personal injury attorneys at the Salazar & Kelly Law Group, P.A. today.
Source:
clickorlando.com/traffic/2022/11/27/76-year-old-woman-killed-in-crash-during-test-drive-in-polk-county-sheriff-says/