Flooding Equals Disaster For Floridians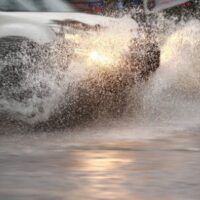 Two weeks after Hurricane Ian whirled through Florida, people in Central Florida near Lake Harney and along the shores of the St. Johns River continued to wait for flood waters to recede, while those along the coast of the southwestern part of the state attempted to pick through the soggy artifacts that were once their homes. Wind damage took its toll—and so did water.
Ian's Damage 
The refrain echoed throughout Florida: the degree of damage was unprecedented.  Many residents had been through hurricanes before, but this one brought record levels of water, leaving families no choice but to resort to travel via kayak or canoe to assess the damage to their properties. To make matters worse, many homes utilize septic tanks to deal with sewage, meaning there could be serious hazards associated with the flood waters. Residents have been instructed to toss anything that was damaged by floodwaters.  That means in addition to practical items like bedding and furniture, objects that hold sentimental value may not be worth trying to salvage in many cases.
Dangers Lurk
As clean-up crews assist families going through the disaster zone, they face exposure to hazardous floodwaters, potential gas leaks, and countless sharp objects and debris.  Other dangers relate to the possibility of electrocution with the use of generators in areas where there are power outages.
The Cost 
The estimates of losses go as high as $258 billion. That is what some believe it will take to clean up and rebuild devastated communities.  But that doesn't begin to calculate the real cost of nature's wrath in Hurricane Ian.  Economic activity will suffer serious interruptions across destroyed areas of the state.  That could mean years of stagnation.
Where Suffering is Greatest 
Unfortunately, communities of color and those on the lower end of the economic spectrum tend to be the ones who suffer the most in these situations.  Oftentimes their homes are not built to withstand nature's force.  They frequently cannot obtain credit to rebuild to boot and seem to be underrepresented and lack the political clout to get the help they need.
What About Insurance?
 For those who have invested in flood insurance, nothing adds to your misery more than having to battle it out with an insurance company that minimizes the impact of flooding on your home.  You should be busy rebuilding, not spending every waking moment submitting claims and wondering what excuse will be used to deny them.  You need an advocate fighting on your behalf. The dedicated Kissimmee flood attorneys at Salazar & Kelly Law Group understand your frustrations, and know how to cut the red tape to get your insurance company to agree to a fair settlement.  Don't wait another day: call us today.
Source:
accuweather.com/en/hurricane/parts-of-florida-remain-flooded-two-weeks-after-hurricane-ian/1261437