Has Your Angry Ex Accused You Of Child Abuse?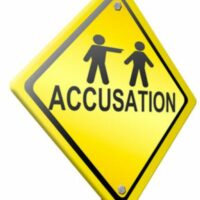 You endured a dismal divorce, and thought you'd made it through pretty much unscathed—but that couldn't be further from the truth.  After a horrible custody battle that resulted in limited visitation for you was bad enough, but now your ex is accusing you of the worst thing imaginable: abusing your own kids.  Your life has been turned upside down, but you're starting to realize that things can get much, much worse.  Now, more than ever, you need a tough Kissimmee criminal defense attorney fighting on your behalf.
Criminal Penalties 
Along with devastating damage to your relationship with your children, social consequences, & impacts on your well-being, you are facing some serious penalties if convicted of these crimes:
Child Neglect:  If you are found guilty of neglecting your children while they are in your care—failing to provide proper food, shelter, supervision, and so forth, and it doesn't result in a permanent disability or serious harm, you are facing a third degree felony that could put you behind bars for five years, on probation for another five years, and stuck with a $5,000 fine. If the neglect does result in great bodily harm, it becomes a second degree penalty and you're looking at tripling the prison and probation times and doubling the fine.
Child Abuse:  Intentionally inflicting physical harm on children is a very serious matter, and a guilty verdict could put you in prison for five years, in addition to fines as high as $5,000. Aggravated child abuse—which involves malicious punishment, aggravated battery, molestation or sexual abuse, or otherwise the infliction of serious bodily harm—could mean 30 years in prison plus probation and a $10,000 fine.
Defensive Action 
Defending child abuse cases can be particularly complex, because emotional testimony by a feverish ex can be extremely convincing, particularly if there is physical evidence to indicate the possibility of abuse. Sometimes children are influenced by a vengeful parent, or are keen to please that parent, eventually sharing fictitious stories that they have no idea will destroy your life. And, rightfully, society is eager to protect children, and will often find a defendant guilty on the slimmest of evidence.  That's why it's critical that you take immediate steps to protect yourself:
Avoid speaking to anyone, including family, friends, teachers, or police, regarding charges without your attorney present.
Make sure social media posts present you as a model citizen and loving parent.
Provide details of all child visits with your attorney, along with the history of your relationship with your ex.
Help your attorney ferret out other explanations for any physical evidence suggesting abuse.
Help your attorney to gather a list of personal references—especially those who have seen you interacting with your children.
Cooperate fully with Child Protective Services and their investigation.
Avoid contacting your ex or your children to try to make sense of the charges or convince them to drop the charges.
Tough Work Ahead 
Child abuse charges are a somber business and require a thoughtful, aggressive legal response.  The dedicated Kissimmee criminal defense attorneys at Salazar & Kelly Law Group, P.A. will provide a robust and focused defense.  To discuss your situation, schedule a confidential consultation in our office today.
Source:
leg.state.fl.us/Statutes/index.cfm?App_mode=Display_Statute&URL=0800-0899/0827/Sections/0827.03.html