Fog And Smoke Combine For Tragedy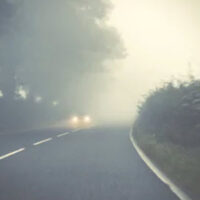 A fiery crash involving multiple vehicles on I-95 in east-Central Florida resulted in three fatalities, along with multiple hospitalizations. Officials report that smoke from a prescribed fire close by combined with fog to create treacherous conditions that motorists came upon abruptly and unexpectedly in the wee hours of the morning one weekday in March 2022.  Florida Highway Patrol officers noted that the wall of white stunned drivers, who could smell smoke, but couldn't see flames. At high speeds, motorists suddenly found themselves with nearly zero visibility, and started to hear crashes all around them. A number of pileups in both directions along the highway proved to be frightening and dangerous for everyone involved.
Driving Tips in Smoke and Fog 
Unfortunately, sometimes drivers fail to implement common sense tips when driving in these kinds of hazardous conditions, and their recklessness and/or negligence can result in harm to other motorists.  What can you do to mitigate the risks in these circumstances?
Give yourself plenty of distance between vehicles: That's going to mean slowing down and giving yourself time to react at the first sign of brake lights in your lane;
Keep your windshield wipers and defroster running: These tools can reduce the accumulation of moisture or ice on the windshield, decreasing the amount of glare you have to deal with;
Keep your low beams on: Many drivers are surprised to learn that high beams tend to reflect water molecules in fog, obscuring your vision more than low beams might;
Use roadside lines and reflectors as a guide: If you rely only on the taillights ahead, you could wind up following another driver into a pile-up;
Don't be pressured by the vehicle behind you: You may feel like you should speed up as a courtesy to the driver who's right on your tail, but the truth is, driving safely and slowly improves outcomes for everyone;
Alert drivers of your intent: Use your signal before changing lanes, and tap your brakes before slowing or stopping to give other drivers time to react appropriately.
Pull over far to the side of the road: If you simply cannot manage to travel through the foggy conditions and wish to pull over, get as far to the right as possible, and put on your flashers. If it's possible to get to a parking lot or gas station, that's the best option.
Play it Smart 
Fog and smoke are, unfortunately, not uncommon weather events in the Sunshine State. You should always be prepared for the eventuality on the road. Anyone can be caught in foggy conditions.  But when another driver is in too much of a rush to follow safe practices and you are seriously injured due to their recklessness, you may be entitled to damages to compensate you for your injuries, lost wages, and more.  The experienced Kissimmee car accident attorneys at Salazar & Kelly Law Group, P.A. are prepared to go to bat for you.  Schedule a confidential consultation today.
Resource:
weather.com/news/news/2022-03-03-florida-deadly-interstate-95-crash