How Safe Is That Baby Sling?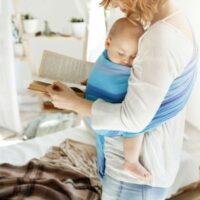 What is more joyous than welcoming a new baby into the family?  The most precious of all faces, your baby's angelic smile warms you through and through.  You would never do anything to put your infant in danger, so when baby slings emerged as a hands-free way to carry your little one around, it seemed like a wonderful solution to your busy lifestyle.  Never would you have imagined that using a baby sling could result in the death of your child.
The Awful Facts 
Problems with baby slings have been documented for over a decade. Infant deaths associated with the devices are heartbreaking:
7-day old Derrik Cochran was noticeably off-color after his mother walked from a store entry out to her vehicle. Before she knew it, her baby was pronounced dead—suffocated by the sling in which she carried her infant. The maker of the sling recalled the device shortly thereafter but clearly not in time for little Derrik.
Eric Matthews, just 36 days old, died after suffering a hypoxic brain injury that led to cardiac arrest after just 10 minutes in a sling.
What Goes Wrong? 
Parents have been told that carrying their babies close to the breast is the safest and most comforting way to hold them. But infant slings can be suffocation traps for young children who haven't yet developed the ability to control their own head movement. Within just a minute or two it can lead to a fatal outcome. Sometimes a baby's head becomes cradled down toward the carrier's chest  or stomach, restricting their breathing. In other cases, the sliders provided to adjust the sling have broken, resulting in babies falling out of the carriers. The obvious dangers of such a fall include contusions, broken bones, and even brain damage.
Avoiding the Worst 
What can parents do when they wish to use the sling safely? It may be wise to avoid using the sling for babies who are still too young to control their heads. Additionally, the Consumer Product Safety Commission (CPSC) provides these basic tips:
Never allow an infant's face to be covered or out of sight.
After nursing a baby in a sling, adjust the position of the baby so the baby's face is not against the mother's body or the sling itself.
Only use a sling that keeps the baby upright, solidly pressed against the carrier.
Additional suggestions come from the UK Consortium of Sling Manufacturers and Retailers, who use the acronym TICKS to help parents remember how to use slings safely:
T: The sling should be tight.
I: The infant's face should remain in view.
C: The baby should be close enough to kiss on the face.
K: Parents must ensure that they keep the infant's chin off the chest.
S: The back must always be 
In the Aftermath of Disaster 
If you have suffered the loss of a child or witnessed a child's serious injury due to a baby sling or any other product ill-designed for a baby, it is impossible to imagine your devastation.  The experienced and compassionate Kissimmee personal injury attorneys at the Salazar & Kelly Law Group, P.A. cannot make you whole again, but can assist in the recovery of damages to address your loss.  Schedule a confidential consultation today.