Infant Formula Recalls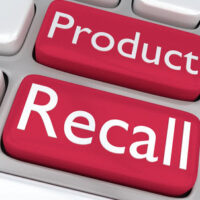 Your baby doesn't seem to be interested in feeding and is uncommonly irritable and feverish. You've noticed a yellowing of the skin, and eyes, unusual movements and a seemingly struggle to get a breath. What's going on? Who would have imagined the baby formula you've been feeding your precious little one would lead to a life-threatening infection!
FDA Recall 
Powdered formulas, including Similac, EleCare, and Alimentum have faced recalls by the Food and Drug Administration (FDA) as a result of bacterial infections in babies linked to the products. It appears the Sturgis, Michigan factory where the products were made did not maintain sanitary conditions, leading to a cluster of serious infections.  The cronobacter bacteria has caused both sepsis and meningitis, conditions that can, and have been fatal.
Know What to Do 
At least four infants have become ill after being fed these products, leading to hospitalization and, in two cases, death. Infections caused by the cronobacter bacteria may be rare, but when they occur, they can be toxic. At risk are premature babies, babies undergoing cancer treatment, or babies under two months old. The Centers for Disease Control and Prevention (CDC) has these recommendations to protect your baby:
Make sure you wash your hands with soap before handling feeding items.
Be sure that you clean, sanitize, and store baby bottles and feeding items, as well as your breast pump and components.
Contemplate using liquid formula , which is sterile, instead of powder formulas, particularly for babies under three months old.
Make sure powdered formula is not recalled or expired and that the can has no dents or dings. Ensure the scoops and lids are clean, and do not leave containers open any longer than necessary.
Prepare formula with water that is at least 158 degrees; it should be boiled and then cooled for approximately five minutes, or by setting the prepared formula in a bowl of ice.
When adding formula to the water, use precise amounts, and shake rather than stir the mixture.
If the formula is not consumed within two hours of preparation, throw it away.
In the event the formula is intended for use later, refrigerate it immediately and use it within 24 hours or throw it away.
Recourse for Parents 
No amount of money will bring back the hours of suffering and illness or death brought about by the use of contaminated baby formula, or any other product targeted at our kids.  But the experienced Kissimmee personal injury attorneys at Salazar & Kelly Law Group, P.A. can help you recoup money to address pain and suffering, costs associated with the sickness, and more.  To discuss your situation, schedule a confidential consultation in our Kissimmee office today.
Source:
cdc.gov/cronobacter/infection-and-infants.html