Rollover Crashes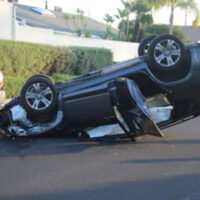 Your vehicle is meant to get you from one destination to another on four wheels.  When it flips over, the danger of serious injuries, and even fatalities, is a real and significant concern.  Here in Florida, victims of rollover collisions have suffered the terror of such accidents, but not all have lived to share their stories.
Florida Rollovers
The tragedies are numerous and heartbreaking:
The driver of a dump truck was killed when he lost control of his dump truck, it then rolled over and caught fire on Interstate-275, near Tampa;
Five individuals in Lauderhill were hospitalized with critical injuries following a rollover that resulted in the ejection of one person;
One person in Jacksonville was killed when her vehicle lost control and rolled over on the Hart Expressway near Beach Boulevard;
One was killed when his small truck was overturned following a collision with another vehicle in the Miami-Dade area;
Two children were air-lifted to a Miami hospital after the Mercedes they were in was struck by another vehicle, causing the Mercedes to overturn.
When two cars crashed into a home in Miami Gardens, one vehicle flipped over, sending one man to the hospital.
What Causes a Vehicle to Overturn?
While every accident is unique, certain factors tend to converge to impact the occurrence of rollover accidents.  Certainly, even the shape of a vehicle may make it more prone to such incidents, simply because the center of gravity is much higher in SUVs, vans, and trucks.  Since any such rollover is likely to have serious consequences, understanding the issues related to these incidents is worthwhile:
Speed: Perhaps the greatest factor influencing a vehicle's susceptibility to a rollover incident is speed.  Studies indicate that four in ten rollover fatalities are, in fact, at least partially due to high speeds.  In fact, 75 percent of rollover fatalities occur on highways with posted speed limits of 50 mph or higher.
Geography: Country roads are frequent sites of rollover accidents, particularly undivided highways in rural areas;
Inebriation: Alcohol is a factor in nearly half of all rollover crashes.  In some instances blood alcohol levels may not exceed legal limits, but alcohol is present, nonetheless, impacting judgment, coordination, and reactions;
Distractions: Unfortunately, driver error contributes to rollover accidents far too often.  Time spent with a driver's focus on something other than driving can reduce reaction time, leading to serious consequences;
Weather conditions: When drivers fail to properly adjust to weather conditions, the results can be devastating.
Road Rage: Aggressive driving has been associated with rollover accidents.
Mechanical failure: Unfortunately, experiencing a tire blowout or other significant mechanical failure can cause a vehicle to overturn.
Victims Impacted
The consequences of rollover accidents can be devastating, often impacting innocents.  If you or a loved one has suffered the impacts of such a collision due to no fault of your own, the experienced and aggressive Kissimmee car accident attorneys at Salazar & Kelly Law Group, P.A. can help.  Contact our office today to learn of the possibilities going forward.
Resource:
miami.cbslocal.com/2019/08/21/man-airlifted-to-hospital-in-rollover-crash-which-damaged-miami-gardens-home/
miami.cbslocal.com/2017/05/14/driver-flees-hit-run-rollover-crash-4-hurt/
miami.cbslocal.com/2017/06/28/1-ejected-3-others-trapped-rollover-crash/
miami.cbslocal.com/2019/12/20/bird-road-multi-vehicle-rollover-crash/
https://www.salazarandkelly.com/distracted-driving-costs-lives/