Secure Your Load!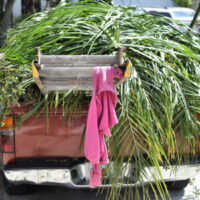 Who among us has not been bewildered to come upon debris along the highway that forces us to swerve suddenly to avoid disaster? Sometimes small items like shoes or plastic bags litter the roadway, but often the items are larger and more dangerous, such as shovels, mattresses, and other obstacles.  All too often, the result is an accident that might even include injuries.  If you've been in an accident that was caused by your inability to navigate around something on the highway that shouldn't have been there, there is a good possibility a loose load was the ultimate cause of the problem.  Seeking the assistance of a local personal injury attorney could be worth your time if serious injuries were caused by the accident.
The Cause of Loose Loads
All too frequently, motorists simply fail to take the time to properly secure objects that they are moving from one place to another. Some common sense reminders include:
Making sure straps that are specifically designed for the purpose of securing loads are used, and tightening a tarp around loads of items that might blow around during transport;
Choosing less crowded roads and slower speeds when transporting loads;
Double-checking latches and ties on straps and doors;
When hauling things on the roof of a car, being sure to use cargo containers specifically created for the purpose, and following instructions carefully;
Avoiding too much; it's sometimes wiser to take two small loads than one huge one;
Balancing items so as to avoid unexpected shifting.
Obey Florida Law
Beyond being sensible tips, Florida statute 316.520 requires drivers to take the steps necessary to prevent the shifting, leaking, dropping, or blowing away of any items from a vehicle.  In addition to protecting one's property, it can be essential to protecting other unsuspecting motorists out there.  Failure to treat this responsibility with the seriousness it deserves could land a motorist in serious trouble, perhaps even leading to  criminal charges.
Accidents Hurt Real People
While in many instances drivers are able to avoid contact with random items on the highway, not every situation has a happy ending.  When the vehicle that 15-year old Seth Krebbeks was in struck a barbecue grill that had fallen onto the roadway, his injuries led to his death.  While the owner of the grill surely had no evil intent, the lack of diligence in securing the load had inescapably tragic consequences.
Did a Loose Load Lead to Injuries?
If you or a loved one has been hospitalized due to injuries sustained in a loose load accident, you need experienced and thorough legal assistance today.  At the Salazar & Kelly Law Group, P.A., our Kissimmee car accident attorneys use Florida law to ensure the best possible outcomes for our clients.  Contact our office today to schedule a confidential consultation.
Resource:
dreamindemon.com/2016/07/05/teen-killed-industrial-sized-barbecue-grill-new-york-highway/
https://www.salazarandkelly.com/distracted-driving-costs-lives/