Sharing the Responsibility for Construction Zone Safety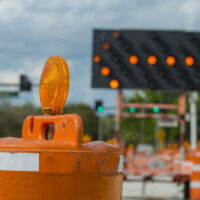 Construction on Florida roadways is simply a fact of life. Workers are out in the sun every day, repairing bridges, widening roadways, repairing water lines under streets, and building the infrastructure that makes Florida such a wonderful place to be. These workers are exposed to a number of dangers in their daily routines:
Heat exhaustion and heat stroke;
Fast moving traffic;
Heavy equipment;
Electrical lines;
Falls into caverns in the roadway;
Burns from hot materials and machinery.
With everything workers have to be concerned about, wouldn't it be nice if they could just focus on their jobs? The fact of the matter is, drivers can do a lot to minimize accidents in work zones, and it doesn't require much. Keeping workers, and motorists safe, often just means courtesy and attention behind the wheel.
Work Zone Accidents
Sadly, accidents in construction zones are on the rise across the country. Fatalities for 2015 to 2016 rose from 712 victims to 755. Roughly 20 percent of those fatalities involved construction workers, while drivers and passengers made up the lion's share of victims.
Driving Safely in Work Zones
As traffic builds and vehicles are directed to merge into fewer lanes, it can be easy to lose patience. But by keeping in mind some basic safety tips, you, and those around you, can experience safe travels through construction zones.
Stay alert: We commonly are told that distracted driving can be hazardous on the road, but it is never more true than in a construction zone. Stay off of your cell phone, and keep your eyes focused on construction signs, cones, workers, and vehicles in the vicinity.
Slow down: Speed limits are posted to keep you and others safe, not to annoy you. The fact of the matter is, if you travel 10 MPH above the work zone limit, you'll only arrive to your destination about three minutes early for every 20 miles travelled. It's simply not worth the risk – or the $200 fine. To be clear, speeding fines are doubled in construction zones if workers are present.
Avoid tailgating: Over 50 percent of work zone accidents involve rear-end collisions. It may be tempting to follow closely, but it makes a crash in stop and go traffic much more likely.
Watch for diversions or detours so you don't have any last-minute surprises that cause you to veer unexpectedly.
Read electronic message boards and pay attention to signage to prepare you for what's ahead.
Take note of traffic patterns and brake lights further ahead on the road.
Are You a Worker Who's Been Injured by a Driver?
If a reckless or negligent motorist has caused serious harm to you or a loved one who was working in a roadway construction zone, you may be overwhelmed with medical bills, all the while unable to earn a living due to your injuries.  Don't despair:  the experienced, legal team at the Salazar & Kelly Law Group, P.A. will work tirelessly to secure compensation for hospital and rehabilitation bill, lost present and future wages, and any other expenses associated with your accident. Contact us in Kissimmee today for a free, confidential consultation.
Resource:
leg.state.fl.us/statutes/index.cfm?App_mode=Display_Statute&URL=0300-0399/0318/Sections/0318.18.html