Sinkhole Troubles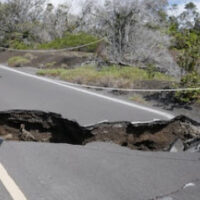 Sinkholes are all too common in the Sunshine State, and they are no laughing matter!  One family discovered that their car was devoured by a sinkhole in their driveway in Palm Harbor. Another sinkhole in Tallahassee developed in a mobile home park, leaving one home straddling the huge crevasse that measured 60 feet deep and 40 feet across.   An orange county sinkhole swallowed a pickup truck, two huge box trucks, and three dump trucks. No one was injured in either of these incidents, but the devastation was deeply felt, nonetheless.
What Causes Sinkholes? 
Cavities that lurk underground in carbonate rocks—often due to erosion over time–can become problematic when the weight of sediments cause the surface to come crashing down. Roads, houses, and other buildings that are located above these karst features sometimes become too heavy, resulting in a collapse, often referred to as a sinkhole.  In Florida, karstic land is very common, making it possible to experience a sinkhole almost anywhere, but most likely in places where there is visible limestone or even deeper areas of limestone with significant aquifer characteristics.
Are There Events that Might Trigger Sinkholes? 
A number of situations could prime your area for a sinkhole event.  Some of these include:
Heavy ground loading;
Significant rainfall;
Significant drought;
Substantial pumping of groundwater;
Construction to transform an area.
Insurance and Sinkholes 
Property owners are responsible for any sinkholes that occur on their own property.  Under Florida law, companies must provide what's called catastrophic ground collapse insurance to address these disasters, but in some situations there may not be a surface hole that is visible, even though structural damage occurs. Additional supplemental insurance is required to address these costs. Unfortunately, oftentimes sinkhole damage is not covered by the catastrophic ground collapse coverage when the event doesn't meet the legal definitions—meaning if your home wasn't condemned, there's not a visible depression, or it wasn't a sudden collapse, the company may try to avoid payment altogether.
Recourse When Insurance Won't Pay 
If you find yourself suffering from the aftermath of a sinkhole and you're finding resistance from your insurance company, it can be incredibly frustrating.  After all, all of those premium payments should account for something, right? At Salazar & Kelly Law Group, P.A., our experienced Kissimmee sinkhole attorneys understand your plight, and are ready to go to bat for you.  We know how to negotiate with insurance companies, and will work to get them to pay up, whether it's through a sinkhole policy, a catastrophic ground cover collapse policy, or even your basic homeowner's insurance.  To discuss the details of your circumstances, schedule a confidential consultation in our office today.