The Tragedy Of Wrong Way Driving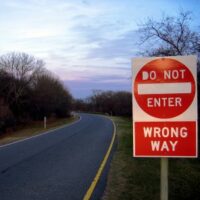 Wrong way driving (WWD) incidents seem to be happening more and more these days.  The sad truth of the matter is, these kinds of accidents nearly always result in tragedy.  Here in Florida, the devastation impacts people of all ages, races, genders, and lifestyles. Just a handful of recent Florida fatalities resulting from wrong-way driving include:
A wrong way driver smashed head on into a motorcyclist on S.R. 408 in Orlando, killing him;
An accident on the Turnpike in Delray Beach resulted in the deaths of two men in separate vehicles—one 25-years-old, the other 43-years-old;
A city bus was smashed into by an SUV on the Hart Bridge, killing two women;
A wrong-way drunk driver killed a man and a 4-year-old in Sebring;
After attempting to divert a wrong-way driver in Tampa, a police officer was killed in the collision.
What We Know About Wrong-Way Crashes 
The Florida Department of Transportation (FDOT) has been studying wrong-way crashes for decades, trying to come up with interventions that might prevent horrendous crashes. Nonetheless, they continue to occur on a regular basis. Monitoring systems and cameras observe miles and miles of interstate highways, and they indicate that far and away the most common location for these kinds of crashes are exit ramps from expressways and freeways. Drivers find themselves going the wrong way on these ramps, putting themselves and others at risk. Sometimes the drivers are elderly individuals who are unfamiliar with the area or who become confused. More often, however, drivers are inebriated, suffering from fatigue, or a combination of multiple factors. Darkness and inclement weather compound driver issues, as do elevated levels of traffic.
Mitigating Disaster 
FDOT can work to reduce wrong-way accidents by addressing design issues on Florida roadways. For instance, keeping onramps away from offramps could mitigate issues with confusion. Clear signage is another important factor, along with arrow and similar pavement markings.  Adequate lighting at night is essential, and signs cannot be lost in the sun's glare during daylight hours.
Driver Safety 
One thing drivers can do to avoid oncoming traffic is to stick to the middle and right lanes as much as possible, especially at night.  You won't have much time to react if you see a WWD approaching. It is recommended that you slow down and move as far to the right as you can. Honk, flash your lights, and turn on your hazard lights in an attempt to warn the WWD off. As soon as you can, pull over and call 911.
When the Worst Occurs 
If you or a loved one is seriously injured, or worse, killed, in a wrong-way accident, the agony of the event cannot be understated.  While nothing can eliminate your pain, the compassionate Kissimmee personal injury attorneys at the Salazar & Kelly Law Group can fight for compensation to address costs associated with the incident, as well as pain and suffering.  Contact us for a confidential consultation today.
Source:
palmbeachpost.com/story/news/local/delray/2022/04/22/two-dead-wrong-way-driver-crash-floridas-turnpike-near-delray-beach/7408576001/