Medical Malpractice In Florida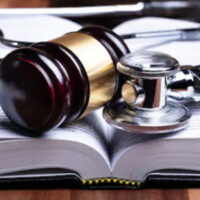 $7.6 million. That's what a mistake cost Sacred Heart Hospital and one of its doctors. Without doubt, the retired firefighter whose lower leg was amputated due to the medical error would prefer to have his leg back—but that's not an option.  As with so many malpractice lawsuits, the financial windfall is meager compensation for a life forever changed.  In this case, a bacterial infection that was misdiagnosed as an ankle sprain resulted in horrific medical outcomes.  The $7.6 million will never completely assuage the suffering, but it sure won't hurt.
What Constitutes Medical Malpractice?
 When medical personnel fail to provide medically sound treatments, leave out appropriate actions, or in any way provide substandard treatment—that which is "below the prevailing professional standard of care" to a patient resulting in injury, harm or death, it is medical malpractice. Whether the mistake is a result of negligence or malice, whether the problem was a matter of misdiagnoses, medication error, care management, or aftercare, patients and/or their families may be eligible to recover damages to address a number of issues.
What Could Compensation Address? 
When suing for medical malpractice there are both economic and non-economic damages:
Economic damages relate to all medical costs related to the incident, as well as lost present and future wages.
Non-economic damages refer to what's commonly known as "pain and suffering," including loss of companionship, convenience, mental anguish, and even embarrassment related to a disfigurement.
In some cases, punitive damages are awarded as well.  These are generally related to recklessness, malice, or complete disregard for a patient.
How are Damages Calculated? 
A jury will consider the real costs to the injured party, and will award economic damages based on those present and future costs.  Weighing the intangible costs to the human psyche is a bit less concrete, and Florida statute therefore limits awards to $500,000.
Statute of Limitations 
Every medical case is different, and Florida law does impose a statute of limitations on seeking damages for medical malpractice.  In most cases, one has up to two to four years after discovering that malpractice occurred to file suit.  Your experienced medical malpractice attorney can help you to determine the time frame in your situation. At that point the gathering of evidence, including documents, medical records, photos, witness statements and more will begin with a furor. Ultimately, a successful case will need to demonstrate that medical personnel violated a duty of care, resulting in serious injury or death.
Pursuing a Modicum of Justice 
Money won't ease your suffering; this we understand.  But at Salazar & Kelly Law Group, our compassionate, highly effective Kissimmee personal injury attorneys know that money will make things easier as you negotiate a life following a debilitating injury or loss of life.  Contact our Kissimmee office for a confidential consultation today.
leg.state.fl.us/Statutes/index.cfm?App_mode=Display_Statute&Search_String=&URL=0700-0799/0766/Sections/0766.118.html
pnj.com/story/news/local/escambia-county/2022/05/21/sacred-heart-medical-group-doctor-lose-medical-malpractice-case-retired-pensacola-firefighter/9826757002/