Big Rig Driver in Fatal Crash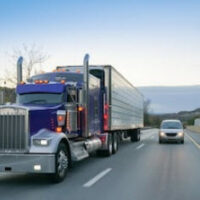 It was a devastating crash, killing seven, and injuring eight others. Fatalities are often the result when big rigs are involved; this incident tangled up two of them, along with two passenger vehicles. Fiery explosions were the horrendous outcome.  All this, involving a semi-truck driver who'd had multiple driving violations in the past several years.
What Happened?
According to the Highway Patrol, a semi-truck wandered across lanes, careening into a passenger vehicle on Interstate 75.  The two vehicles staggered through the guardrails, and banged into another semi and a van.  As diesel fuel poured onto the highway, flames erupted.  A fifth vehicle, unable to divert around the disaster, plowed through, possibly running over individuals who'd been ejected from various vehicles. Ultimately, both semi drivers and five children lost their lives.
Is the Trucker's Driving History Relevant?
One driver's mistake led to this calamity, and his driving record was far from stellar.  The 59-year old, who also lost his life in the collision, had numerous violations in his history, including those for overloading his vehicle, speeding, not carrying proof of insurance, and driving an unsafe rig. Whether one of these, or other violations, led to this fatal crash is still unknown.
Safety Regulations
The Federal Motor Carrier Safety Administration (FMCSA)regulates truckers who drive vehicles weighing over 10,000 pounds to transport materials. In order to obtain a commercial drivers' license (CDL), individuals must meet the following criteria:
Have a driver's' license;
Have a good driving record;
Pass CDL road testing;
Pass CDL information testing;
Have medical clearance.
There are strict rules guiding the amount of driving that may occur within a particular time period. Those regulations include:
Driving a maximum of 11 hours daily after having 10 hours of rest;
Never driving more than 14 consecutive hours;
No driving after 60 hours on the road within a 7-day period;
34 hours of rest prior to driving after 70 hours on the road;
A minimum of one half-hour break during an 8-hour driving shift.
Electronic Logging
A mandatory Electronic Logging Device must be located in all trucks, tracking a driver's hours and recording them.
Testing for Drugs and Alcohol
Truck drivers are not allowed to drive their rigs if they have anything in their system that might impair their driving within eight hours of taking to the road.  They are not even allowed to carry alcohol in the truck, except as cargo.  If their BAC is a little as .02, they are not allowed to drive.
We Can Help You Today
Accidents related to violations of FMCSA regulations are all too common.  Because trucking companies and their drivers are intent on protecting their interests, it is sometimes difficult to discern what violations, if any, contributed to an accident.  That's why it is important for you to get knowledgeable, aggressive lawyers working for you to find the truth following any incident involving a big rig.  At the Salazar & Kelly Law Group, P.A., our Kissimmee personal injury attorneys know how to proceed in order to secure the best possible outcomes for victims and their families following an accident involving a semi.  Contact us in Kissimmee to schedule a free, confidential consultation today.
Resources:
thetrucker.com/7-killed-8-hurt-in-florida-crash-involving-2-big-rigs-2-passenger-cars/
fmcsa.dot.gov/regulations/title49/b/5/3/list