Heavy Equipment Dangers on the Work Site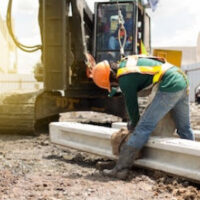 Construction workers are exposed to all kinds of hazards on a daily basis.  There are often exceedingly high platforms, above and below ground electrical risks, and all kinds of sharp objects, moving parts, and industrial sized machinery. Heavy equipment can often be associated with some of the most serious—even deadly—accidents on a construction site. If you or a loved one has been victim to a heavy equipment accident, seeking the counsel of a Kissimmee personal injury attorney might be worth your while.
Accidents all too Common
Construction sites are no stranger to serious accidents.  In fact, over 100 fatalities occur annually involving heavy equipment like bulldozers, backhoes, cranes, and grading machines.  The types of calamities that occur are always tragic, often preventable:
Equipment strikes workers while in motion, especially large vehicles moving in reverse;
Machines encounter steep grades and roll, crushing bystanders or the operators themselves;
Equipment is not stabilized properly during the loading or unloading, and injures loaders;
Machinery parts or loads fall on to bystanders who are inexplicably below.
Failed Responsibility?
Surely, when supervisors create and monitor effective safety protocols, many of these accidents could be avoided.  In the case of heavy equipment, there are clear expectations that, when adhered to, can minimize the frequency and severity of heavy equipment accidents. Companies have a duty to create a safe working environment, and can prioritize safety by employing key strategies:
Purchasing (or renting) heavy equipment that has rollover protective structures and seatbelts, and requiring operators to use those seatbelts;
Establishing rituals to check equipment regularly to ensure it is in proper working order;
Providing opportunities for thorough and effective training for any individuals who will be charged with operating such equipment;
Educating everyone on site about how, when, and where to interact with equipment;
Providing walkie-talkies and other communication devices, along with trained signal persons to alert operators of issues they may not be able to detect on their own;
Utilizing a one-call system whenever utility cutoffs are necessary;
Enforcing strong protocols surrounding electrical vulnerabilities;
Establishing procedures for heavy equipment with regard to steep slopes and embankments;
Requiring machinery to be completely shut down prior to an operator disembarking or maintenance being performed;
Requiring workers to maintain three points of contact while climbing aboard or disembarking from machinery;
Ensuring strict load limits are observed;
Minimizing the number of workers in a given area when heavy equipment is in operation;
Emphasizing the need for all workers on site to be cognizant of hazards and to behave accordingly;
Ensuring that employees are free of impairments due to alcohol or drugs while on site;
Providing sustainable reporting procedures related to safety concerns;
Providing adequate training, supervision, and monitoring of all aspects of the construction site.
Liability Issues
May questions may be raised following an accident.  Was there a known drug problem on site, which contributed to an accident?  Were safety protocols frequently ignored in an effort to speed up work?  Was taking shortcuts standard operating procedure on site? Were safety concerns ignored over time?  If the answer to these and other questions is yes, an employer may be found liable for incidents that occur on site.  To explore the possibility of remuneration following an accident involving heavy machinery, contact the aggressive, experienced legal team at the Salazar & Kelly Law Group, P.A. in Central Florida for a confidential consultation today.
Resource:
elcosh.org/document/1817/d000661/hazard-alert%3A-operating-heavy-equipment.html
https://www.salazarandkelly.com/big-rig-driver-in-fatal-crash/