Does Signing A Waiver Mean You Can't Sue After An Accident?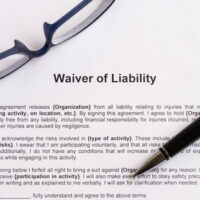 Like most people, you participate in all kinds of recreational activities, as do your children.  Little League, rock climbing, zip lining, horseback riding—all of these, and many other activities—require you to sign a waiver before participating.  It's one of the things you do without giving it all much thought, let alone actually reading it. But then the unthinkable occurs: an accident.  What now?
Why They're Required 
Waivers, otherwise known as assumption of risks, indemnification clauses, or releases, are used by many organizations in order to reduce risks to themselves in the event of an accident.  By signing, you're agreeing that you understand that there are inherent risks associated with the activity, and you won't hold the company responsible for accidents.  It's basically your voluntary relinquishment of the right to sue if you get hurt—you hold the company harmless.  If you fall off of your rented scooter and break your arm, that's on you. It's a pretty good deal for the organization, right!
Waivers for Children's Activities 
When parents sign waivers for children's activities, Florida statute states that in order for the waiver to be valid it must have a special warning written in uppercase lettering that is larger and distinguishable from the rest of the type indicating that parents/guardians should read the warnings before signing the waiver. That's because children under 15 experience more than 3.5 million injuries annually across this country, many of them serious brain injuries.  In fact, 20 percent of all traumatic brain injuries in children are a result of recreational activities. Six in ten of those occur during practices for a sporting event. 
Invalid Waivers 
No legal document gives an organization carte blanche in the case of a harmful incident, however.  If an accident was the result of negligence, the waiver can be deemed invalid.  This means that ordinary care was not exacted in order to keep customers safe.  It could mean a 4-wheeler you rented was not adequately maintained, a Ferris Wheel did not pass regular inspections, or a gymnastics gym did not place proper mats around vaulting equipment.  There are all kinds of requirements associated with each type of venue and violating what would be considered ordinary safety precautions will likely invalidate any waiver. For the injured, that means it's possible to recoup damages to address the medical costs and more.
Exploring Your Situation 
No one expects to get hurt while out trying to have a good time.  Unfortunately, injuries occur more often than we'd like.  Even if you've signed a waiver, you may have legal grounds to sue if negligence contributed to the incident.  To explore the possibilities, schedule a confidential consultation with the knowledgeable and tenacious Kissimmee personal injury attorneys at the Salazar & Kelly Law Group, P.A. today.
Resource:
stanfordchildrens.org/en/topic/default?id=sports-injury-statistics-90-P02787