Drivers Must Respond Appropriately To Emergency Vehicles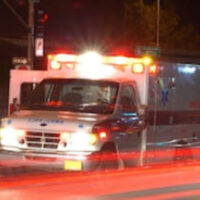 Do you know what to do if you are driving and see emergency vehicles with their lights on and sirens blaring? Most drivers understand that flashing lights in their rearview mirror means they have to pull over. But many don't realize that if an emergency vehicle is pulled over on the roadside ahead of you, you are required by law to move over into a distant lane if possible.  In the event changing lanes is not possible, drivers must slow down.  This rule applies to maintenance and construction vehicles with warning lights flashing, tow trucks and wreckers, as well as ambulances, highway patrol vehicles, and firetrucks.
Consequences of Failing to Move Over 
It's a serious issue.  Here in Florida, nearly 200 crashes occurred in 2021 alone because drivers failed to move over as required. A tragic fatal collision transpired in January 2022 on Florida's Turnpike when, for unknown reasons, a Kissimmee woman ignored lights, cones, and flashing arrows designed to deflect traffic away from a crash scene that had occurred earlier. Failing to move over or slow down, the 32-year old woman slammed into a Road Ranger, injuring that driver and killing herself.
Risks to Highway Patrol Officers 
Every state in this country has laws requiring drivers to move over.  Nonetheless, highway patrol officers are hit by passing vehicles time and again. Often they suffer serious injury; sometimes they are killed. 25 percent of officers surveyed report that they or someone they know has been injured by a passing vehicle.  In fact, 17 percent of accidental officer fatalities are a result of being struck by a vehicle.  Here's what the data tells us about these collisions:
Minor injuries are typically the result of collisions occurring with a vehicle traveling at 15 mph or less;
Serious injuries occur when the speed involved is between 15-30 mph;
Fatal injuries are more likely when the speed hits 30 mph, with four out of five fatalities occurring when the speed hits 40+ mph.
Preventable Accidents 
The truth is, these accidents are entirely preventable.  Drivers who pay attention to the road and are aware of conditions can make minor adjustments and spare themselves and others disastrous consequences. As soon as drivers see a stationary vehicle with lights flashing, they should take the first possible opportunity to:
Move over one lane away from the incident in question after signaling your intent to do so;
Make room for other vehicles to move over as well;
If there is no way to safely move over, drop your speed by 20+ mph and proceed with caution.
After a Senseless Collision 
Have you or a loved one been injured or killed because a negligent and reckless driver failed to adhere to Florida laws requiring drivers to move over and/or slow down?  Whether you are a highway patrol officer, tow truck operator, or civilian who suffered serious consequences of a crash, you deserve top notch legal representation in a personal injury/wrongful death lawsuit.  At Salazar & Kelly Law Group, our experienced Kissimmee car accident attorneys will fight passionately to achieve the best possible outcomes for you.  Schedule a confidential consultation in our office today.
Resource:
nhtsa.gov/several-states-report-spike-drivers-crashing-police