Expansion to Florida's Move Over Law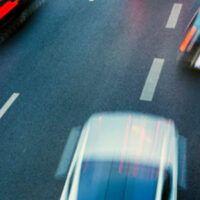 When a car struck a disabled vehicle on the side of I-10 one early Saturday morning, it sent the driver to the hospital. A similar situation on State Road 429 had more serious consequences; the driver of the disabled vehicle was killed, and the motorist who crashed into her required hospitalization for minor injuries. And two individuals who were trying to push a disabled vehicle out of traffic on I-295 were struck from behind and killed, with two others requiring hospitalization. The theme here is easy to see: disabled vehicles pose a real risk to motorists on Florida highways.
The Danger is Real
We've all seen disabled vehicles on the side of the road at one time or another. Some of us have actually been the disabled vehicle.  And when you're the driver of a vehicle that gets a flat tire or is otherwise incapacitated, especially on the highway, it can be pretty frightening. How do you repair a flat tire when other motorists are whizzing past you at 40, 50, 60, or 70 miles per hour, or even faster?  Where do your passengers safely wait?  It's a real problem, and it takes the lives of roughly 350 stranded drivers annually, in addition to tow truck drivers and first responders.
Facts About Disabled Vehicle Collisions 
Frequently this type of collision occurs when disabled vehicles are too difficult for drivers to see.  In fact, while the vast majority of what the highway patrol calls "inconspicuous-vehicle" crashes involve a traveling vehicle smashing into a stationary one, over half of fatalities and 20 percent of serious injuries associated with these collisions occur as a pedestrian is working on, walking away from, or returning to their disabled vehicle. Sometimes Good Samaritans who pull over to offer assistance are the victims of these accidents.
 Move Over 
For some years now Florida statute has called on drivers to move one lane over when utility vehicles, sanitation trucks, law enforcement, emergency vehicles, or construction vehicles have stopped and are flashing their warning lights. In situations where a lane change cannot safely be achieved, drivers are required to slow down to 20 miles per hour below posted speed limits, or to five miles per hour when the posted limit is 20 mph. Starting in 2024, the law will now apply to disable vehicles with flashers on, as well.
Following an Accident 
If you or a loved one has been seriously injured or killed in an accident, especially if recklessness or negligence was a factor in the accident, you may be entitled to damages to address medical costs, lost wages and more. To discuss the possibilities, contact the aggressive and experienced Kissimmee personal injury attorneys at Salazar & Kelly Law Group today.