Tragic Maternal Deaths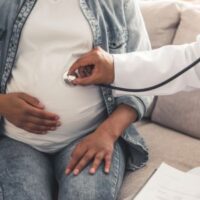 Where are women most at risk to deliver a baby?  Chile? Latvia? Montenegro?  None of those.  The developed country where the maternal death rate is the most alarming is actually right here at home, the United States of America. And for Black mothers, the maternal death rate is even more alarming, at double that of white mothers and triple the rate of Hispanic mothers. What gives?
Racial Disparities 
Startlingly, 84 percent of deaths during pregnancy, labor, or in the postpartum year are completely preventable. With women of color experiencing more cases of maternal death than white women, it's worth understanding the factors that contribute to the disparity. Certainly, these factors are multifaceted, but doubtlessly include systemic discrimination and racism, poverty, and myriad social factors.
 Challenges for Black Women 
The challenges faced by Black women are significant in this country, and include the following:
Limited Access to Insurance/Prenatal Care: The result of less prenatal care is directly linked to preterm deliveries, low birthweight in infants, and the rise of infant and maternal mortality rates.
Higher rates of chronic and/or preventable disease: Hypertension, cardiovascular disease, and diabetes can mean complicated pregnancies for Black women.
Fibroids: Uterine tumors that are benign occur with greater frequency in Black women, and can lead to hemorrhaging postpartum.
These factors contribute to Black maternal mortality rates, but it is the accompanying racism that often seals the deal.
Racism 
When Shalon Irving, a Black woman, gave birth to a healthy baby in 2017, it was all celebrations.  Following the delivery, however, Irving experienced a number of troubling symptoms, including blood pressure spikes, leg swelling, headaches and more.  Even though she repeatedly sought medical care, her worries were dismissed by the medical community as nothing to worry about. Three weeks after giving birth, Irving was dead.
This is just one example of a Black woman receiving inadequate care despite having private insurance and a healthy support network.  This, and cases like it, led the CDC to declare that racism is a public health threat.
When Doctors Don't Listen
Pregnant women of all backgrounds and races should be aware of warning signs before, during, and after pregnancy, and must be vigorous advocates for themselves. Issues related to breathing, pain, racing heartbeat, heavy bleeding, problems with vision, increased swelling or temperature, or sensing a decrease in the baby's movements are all things that should concern women.  If a doctor doesn't listen to these worries, find another doctor!
Medical Malpractice? 
If more than eight in ten instances of maternal mortality are preventable, it seems mistakes are all too common.  If a medical mistake, including the ignoring of symptoms, leads to the death of someone you love, you may be entitled to damages to address your loss.  The experienced, compassionate Kissimmee personal injury attorneys at Salazar & Kelly Law Group can look into the issue on your behalf.  To discuss, schedule a confidential consultation in our Kissimmee office today.
Source:
kff.org/racial-equity-and-health-policy/issue-brief/racial-disparities-in-maternal-and-infant-health-current-status-and-efforts-to-address-them/