Florida Pedestrian Accidents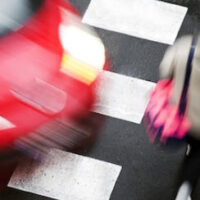 Every day, 13 people are killed  in a pedestrian collision somewhere in this country, and the Sunshine State has the dubious distinction of leading the nation in these horrendous incidents.  If you or a loved one has been the victim in an auto-pedestrian crash, resulting in serious injuries or death, a local personal injury/wrongful death attorney can help you moving forward.
Who are the Victims?
The Centers for Disease Control and Prevention (CDC),reports that certain age groups are significantly more vulnerable to pedestrian accidents:
20 percent of these fatalities strike children under the age of six;
20 percent of fatalities involve adults over the age of 65.
Worst Cities in Florida
A number of cities in Florida made the top 20 list of the most dangerous for pedestrians.  Among them:
# 14 Miami
# 9 Tampa
# 8 Cape Coral-Fort Myers
# 6 Jacksonville
# 5 Lakeland-Winter Haven
# 4 Sarasota
# 3 Palm Bay
# 2 Daytona Beach
# 1 Orlando
Structural Problems
A key problem in many places is the lack of walking infrastructure.  This might include a number of issues:
A lack, or very limited number of crosswalks spread across large distances;
Inadequate time allowed in crosswalks;
Wide roads with high speed limits;
Busy roadways with no sidewalks;
Wide turning lanes that cross pedestrian crosswalks.
Impairment Issues
According to the National Highway Traffic Safety Administration (NHTSA) data, almost one out of every two pedestrian fatality is related to impairment in either the driver or the pedestrian:
About one-third of these incidents involve a pedestrian whose BAC exceeds the legal limit of .08;
More than one in ten fatal auto-pedestrian collisions involve a drunk or drug impaired driver.
Other Driver Factors
A number of circumstances may have an impact on these kinds of accidents, which result in over 6,000 deaths and 130,000 hospitalizations annually.  Some of the most common factors include:
Driver distraction;
Speeding;
Running stop signs or red lights;
Inclement weather;
Confusing signage due to construction or other factors;
Limited visibility due to darkness, fog, etc.
Pedestrian Factors
Children unexpectedly dashing into the roadway;
Pedestrians crossing outside a marked crosswalk;
Pedestrians crossing against a light;
Pedestrians walking along a road with no sidewalk in the same direction as vehicles;
Pedestrian distractions such as texting or headphones;
Failing to pay attention as cars exit of driveways or parking lots;
Walking at night in dark clothing.
Following an Accident
In an auto-pedestrian accident, the pedestrian will get the short end of the stick every time.  If you are dealing with horrendous medical bills, lost wages, or worse, funeral expenses following an auto-pedestrian collision, the compassionate and experienced Kissimmee car accident attorneys at the Salazar & Kelly Law Group, P.A. can help.  Contact our office to schedule a confidential consultation today.
Resources:
nhtsa.gov/DOT/NHTSA/NRD/…/Crash%20Avoidance/…
cdc.gov/motorvehiclesafety/pedestrian_safety/index.html
https://www.salazarandkelly.com/dangerous-rollover-accidents/