Hit and Run Accidents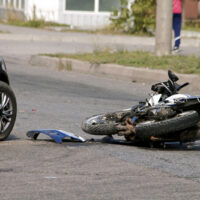 It was a day of drama, tragedy, and suspense.  When Angel Rodriguez Fiallos took his motorcycle out for a spin one August morning this year, he surely had no clue that it would be his last.  For that was the day that Cody Bearry flew through a red light and smashed into the unsuspecting motorcyclist, who later died as a result of his injuries. Bearry also collided into another car, which was smashed into a fourth vehicle.  Rather than hanging around to assist injured parties until medical personnel arrived, Bearry and his passenger then fled on foot until they reached a nearby gas station, where they carjacked a vehicle and sped away.  Hours later they were seen about 25 miles away from the crash, where they led troopers in a high-speed chase. At that point, the passenger was apprehended, but Bearry managed to escape yet again, and it wasn't until evening had set in that K9 units were able to capture and arrest him.
Florida Statistics
You wouldn't think that many people would be callous enough to leave the scene of an accident, but the truth is, more individuals do so than you'd imagine.  Here in Florida, we have the dubious distinction of being tied with New Mexico and Louisiana for having the highest rates of hit and run accidents per capita in the nation. A 2016 study found that these accidents have been on the rise—up 60 percent since 2009.  The data here in the Sunshine State is maddening:
In 2015 alone, over 90,000 hit and run collisions were reported;
Nearly 20,000 injuries were incurred in these accidents, 1,200 of them serious;
Roughly 25 percent of all pedestrian collisions in the state are hit and runs;
Over 30 percent of citations for hit and runs in 2015 were received by individuals in the 18-27 age bracket;
Males receive 70 percent of all citations written for hit and runs in Florida.
Legal Requirements
There are laws on the books to deal with individuals who leave the scene of an accident:
Property Damage: When someone leaves the scene of an accident that resulted in property damage only (80 percent of cases) they could be cited with a second degree misdemeanor, and could face up to two months in jail, a $500 fine, and driver's license revocation for a minimum of three years.

Injuries: When an accident occurs that results in injuries, a driver who flees the scene could be charged with a third degree felony, and could be looking at as many as 5 years in prison, $5,000 in fines, and license revocation.

Fatalities: Drivers are required to remain on scene if there are any injuries or fatalities, whether the accident occurs on public or private property.  Failure to stay to render aid until law enforcement and medical personnel arrive is a felony, which could mean anywhere from 4-30 years in prison, a fine of $10,000, and license revocation.
Following a Hit and Run
If you or a loved one has been the victim of a hit and run accident, you are no doubt disgusted and angered by the moral deficiencies of the offender.  Equally troubling in the aftermath of such an episode, the expenses of medical care, property damage, and so on can be overwhelming. At the Salazar & Kelly Law Group, P.A., our Kissimmee car accident attorneys feel your pain, and will fight for justice on your behalf.  Contact our office today to schedule a free, confidential consultation.
Resource:
tampabay.com/breaking-news/couple-runs-red-light-kills-pasco-motorcyclist-then-carjacks-another-car-to-flee-troopers-say-20190803/
https://www.salazarandkelly.com/hit-and-run-causes-fatality/