Florida Motorcycle Accidents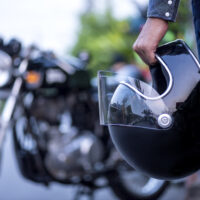 A young father on his way home from work on his motorcycle:  suddenly, he is cut off by another vehicle, collided into by a car that weighed several times the amount of the motorcycle, and that had built-in safeguards that motorcycles simply do not provide.  Within minutes, rescuers are attempting to save the motorcyclist's life, but to no avail.  That young father never makes it home to his family. Meanwhile the motorist involved in the incident speeds away without bothering to check on the victim, offer assistance, or call 911.  While it sounds like a melodramatic plot in a movie, these events actually occurred early one October morning in Miami.  If you or a family member has had a similar experience, a local personal injury/wrongful death attorney could be of assistance to you now.
What Precipitates a Motorcycle Collision?
Navigating the road on a motorcycle can be significantly more perilous than doing so in a car, truck, or SUV, simply because motorcycles do not afford one the same structural protections that other vehicles provide. The statistics bear this out: eight in ten motorcycle accidents result in injuries or fatalities, even when those accidents occur at low speeds.  The fact that a motorcyclist cannot be buckled up, and is most likely going to be ejected, means vicious confrontations with the road or other obstacles are inevitable for motorcyclists who wind up in crashes. What are the contributing factors to these dangerous crashes?  There are a number of issues worth considering, including:
Driver Error: Many drivers simply fail to check blind spots before changing lanes, neglect to look for motorcycles when approaching intersections, allow themselves to be distracted by cellphones or other issues, or simply drive erratically or recklessly.  All of these problems can be extremely dangerous for motorcyclists.

Driver Impairment: Over 40 percent of fatalities involving motorcyclists have alcohol cited as a key factor in the accident. Drivers who get behind the wheel while under the influence of alcohol or drugs have limited concentration, slower reaction times, and poor judgment.  Whether it's the motorcyclist or the motorists who is impaired, the consequences can be tragic.

Visibility Issues: More often than not, intersections are the most dangerous place for motorcyclists. About 35 percent of intersection accidents occur here as motorists execute turns directly in the path of a motorcycle that is traveling straight.

Weather Problems: While all vehicles may face performance challenges during wet weather, this is particularly true for motorcycles. Any vehicle that loses control due to standing water or slick surfaces is a real danger to motorcyclists.
 You Need an Advocate
Following a death or a serious injury that occurred as a result of a motorcycle accident, the road ahead may seem pretty grim.  At the Salazar & Kelly Law Group, P.A., our Kissimmee motorcycle accident attorneys understand the challenges ahead, and we will go to bat to fight for justice on your behalf.  To explore the possibilities, contact us for a free, confidential consultation today.
Resource:
miami.cbslocal.com/2019/03/21/motorcyclist-involved-in-hit-and-crash-has-died/