Most Frequent Reasons For Holiday Lockup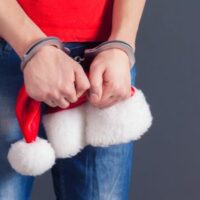 While many of us look forward to the holiday season because it means spending time with family, sharing holiday traditions, and enjoying the hustle and bustle of the season, that's just not true for all families.  Why?  Sometimes, allegations of criminal activity interfere with the festivities.
Common Reasons for Arrests 
The truth of the matter is, arrests do not wane simply because the holidays are ahead.  Instead of waking up in jail on Christmas morning, you, too, can experience the joy of the season if you make some smart decisions.  Some of the most common reasons people get arrested during the holidays include:
DUIs: There are parties galore between Thanksgiving and New Year's Eve, but getting a DUI is no way to boost your holiday fun! In Florida, if you're stopped with a blood alcohol limit of .08 or higher, you're basically guaranteed a night in jail on top of additional penalties that will cost you time and money.  If it was just a DUI and no accident was involved, it might be a fairly short stay behind bars, but additional consequences will last well beyond the night of the arrest. So make the smart decision: don't drink and drive!
Family Violence: The holidays bring a lot of stress for families on top of the fun, what with the high expectations, financial drain, and so forth— it can all get to be a bit challenging. The stress of it all can lead to difficulties among family members–which could lead to an arrest.  What a way to ruin the holiday!  So keep your cool even when things get strained.
Airport Contraband: It makes sense that there will be more contraband going through airport scanners with the huge influx of travelers during the holidays.  While marijuana may be legal in one state, it could get you arrested in another— and the TSA doesn't permit it at all.  So be careful what you pack!
Porch Theft: Porch pirates are ever ready to steal, even during broad daylight.  It may be tempting and seem like easy pickings, but getting caught is easier than ever with all the doorbell cameras out there, not to mention dummy packages that are used to bait thieves.  So play it smart and stay off of strangers' porches!
Shoplifting: Plenty of people try to enhance their holiday by boosting merchandise. But cameras are everywhere these days, along with undercover security personnel and others.  Retail theft is a major problem during the holidays, and, in Florida, boosting can get you busted. Not a smart move!
Home for the Holidays 
If you're behind bars, you get one phone call.  Make it worthwhile. The knowledgeable and aggressive Kissimmee criminal defense attorneys at Salazar & Kelly Law Group, P.A. will fight for the best possible outcomes for you—including trying to get you home for the holidays.  Contact our office for a confidential consultation today.
Source:
flhsmv.gov/driver-licenses-id-cards/education-courses/dui-and-iid/florida-dui-administrative-suspension-laws/