Road Rage In Florida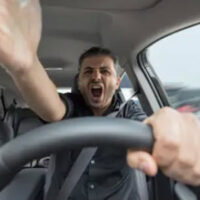 Ever lose your cool behind the wheel?  If so, you're not alone. Nearly eight in ten drivers admit to engaging in aggressive actions on the road in order to signify their annoyance toward another driver. Road rage takes many forms, and in the worst-case scenarios, results in terror, injuries and death. In the course of a year, there are roughly 1,800 injuries and 30 deaths caused directly by road rage.
Aggressive Driving 
Road rage typically manifests as aggressive driving in response to frustrations with one or more other motorists on the road.  Yelling and honking, rude gestures, and tailgating are the most common behaviors, and are correlated with over 50 percent of fatal collisions. More extreme cases of road rage result in drivers cutting one another off, running red lights, preventing another driver from merging, speeding, speeding and slowing erratically, racing, and forcing oneself to merge into a line of traffic. In the worst situations, drivers resort to blatantly aggressive behaviors that involve weapons, or that use their vehicles as weapons. 
For Instance… 
When a couple of drivers became irritated with one another on I-95, one driver laid on the horn and flashed some unfriendly hand gestures, ultimately throwing a water bottle at the other. In response, the second driver fired off eleven gunshots.  While neither driver was injured, the episode was frightening for both men, not to mention other drivers on the highway.
When the driver of an Audi became annoyed with a motorcyclist on South University Drive in Davie, he literally swiped the motorcyclists into the air and onto some nearby grass.
After engaging in aggressive driving tactics for over eight miles, one driver followed another off the highway to a gas station, where he pulled out a machete and threatened to cut off the first driver's head.
How to Handle Aggressive Drivers 
While it may be tempting to engage angry drivers, you are much better off letting their actions go without a response.  Ignore the honks, gestures, and so forth, and the other driver will likely be on his merry way without much ado.  When situations arise where another driver simply won't go away, you should definitely call 911 to get law enforcement help. Never respond in kind to a driver who is engaged in dangerous behaviors, as it will likely just escalate the problem. Instead, if it truly is a dangerous situation, let the highway patrol or police take care of it.
Have You Been Harmed in a Road Rage Incident? 
In the event you were unable to escape an angry motorist and wound up experiencing serious injuries, you may be entitled to damages to address your physical and emotional complaints.  The experienced Kissimmee personal injury attorneys at the Salazar & Kelly Law Group are committed to achieving the best results for you.  Schedule a confidential consultation today!
Resource:
wsvn.com/news/local/dashboard-camera-shows-road-rage-incident-involving-motorcyclist-in-davie/