Were You Injured at a Pool?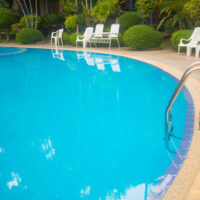 In Florida, landowners, or the parties that occupy and take care of the land, must keep it safe for you and other guests. This encompasses all parts of land, including the ground, walkways, parking lots, play areas, and the inside and outside of buildings. This is known as premises liability law, and the specific responsibility a landowner has depends your status as a visitor.
Businesses, municipalities, and even individuals owe the highest duty of care to business invitees, better known as customers and clients. These parties have the second highest duty of care to licensees, also known as social guests. Businesses that have pools individuals can pay to swim in, and families who own pools and allow guests to swim in, need to be aware of Florida's laws regarding pools and their duty of care to customers or guests.
If you were injured at a pool, whether it is a local public pool, a private club, or someone's home swimming pool, call our Kissimmee premises liability lawyers today. We have years of experience handling personal injury and premises liability claims for people injured in Florida.
Florida's Landowners' Duty of Care Related to Pools
For business invitees, landowners must keep their property in a safe condition. This means regularly inspecting their property, including the pool and surrounding areas, and looking for potentially dangerous hazards. These hazards could include sharp edges within the pool, slick walkways around the pool, or cracked and uneven walkways around the pool. Another hazard is a dirty or chemical imbalance in the pool, which could cause injuries like infections. Landowners must provide notice of these hazards by putting up warnings, blocking them off from invitee's reach, or repairing them. If a business customer is harmed in a pool in Florida, the pool owner can be held liable for dangerous conditions they knew or reasonably should have known about.
For social guests, the duty of care is slightly lower. Property owners must maintain the pool and surrounding area in a reasonably safe manner. If the property owner finds a dangerous condition, they must warn about it, block it off, or fix it. If a person is harmed while visiting and playing in their pool, the landowner can be held responsible for dangerous conditions they knew about. A pool owner is not responsible for harm caused to a social guest by a hazard they were unaware of.
Landowners owe no duty of care to trespassers other than to not intentionally or recklessly cause a trespasser injury. If teenagers or adults play in a business or homeowner's pool without permission and get hurt, the business or owner may not be liable. However, the duty the landowner owes a trespassing child may be different. Under the attractive nuisance doctrine, landowners may take reasonable steps to protect children from a dangerous condition on their property, like a pool, which children will be inherently attracted to. This includes covering the pool, putting up a fence, and locking any gates.
Florida Pool Safety Laws
Businesses and individuals that own pools must also adhere to all of Florida's pool regulations. Homeowners need to be well aware of the Residential Swimming Pool Safety Act. If a business or homeowner violates a Florida law regarding swimming pool safety, this may be evidence of negligence on their part and support an injured guest's claim for compensation.
Were You injured at a Pool?
If you were injured at a pool owned by another person or business, call Salazar & Kelly Law Group, P.A. today. We will investigate your claim and determine whether the landowner violated one or more Florida pool laws. We will also determine your status on the property, the duty of care owed to you, and whether there is evidence that the landowner violated that duty of care.
Resource:
leg.state.fl.us/Statutes/index.cfm?App_mode=Display_Statute&URL=0500-0599/0514/0514.html
leg.state.fl.us/statutes/index.cfm?App_mode=Display_Statute&URL=0500-0599/0515/0515.html