When Poor Vehicle Maintenance Leads to an Accident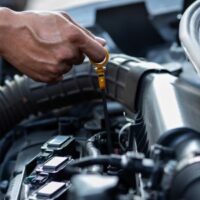 Drivers have lots to think about when they're on the road.  Besides worrying about how to get where they're headed, motorists have to focus on following the rules of the road—paying attention to the speed limit, signaling when appropriate, and avoiding drivers who seem to be in a big rush. These things, on top of minimizing distractions and staying focused on the task at hand.  With all of this weighing on drivers, they sometimes fail to address one of the most fundamental issues of all: vehicle maintenance.
Issues to Watch 
There are a number of relatively inexpensive maintenance issues that every driver should make a point of knowing about.  They include:
Fuel level: That's right, running out of gas can be a huge safety issue for you and for other motorists, as well.  So before you head out, make sure you have enough fuel to reach your destination, or be prepared to gas up as needed.
Tires:  There were nearly 700 fatalities related to tire failures in 2020 alone, highlighting the need to address this essential part of your vehicle. The three key things to check on your tires include:

Tread wear;
Inflation level;
Damage to the tire and/or rim.

It's important to check tires every month—and remember to keep an eye on your spare tires, as well!
Balance/Alignment: Keeping tires balanced and rotated ensures longer viability to the tires, shocks, and struts.
Brake System: There's no question that working breaks are an essential in any vehicle.  When brakes squeal, thump, shake, or make other noises, it's time for repairs. Putting off needed maintenance will result in more extensive damage to your vehicle, possibly involving drums and rotors, not to mention it puts you at greater risk of an accident.
Windshield Wipers: Inclement weather is challenging enough to navigate without having poorly functioning windshield wipers. If they're making noise or leaving streaks, it's time for them to be replaced.
Fluids: Oil, transmission fluid, windshield wiper fluid—these are all the lifeblood of a vehicle.  Make sure they are filled!
Recalls: It's important to periodically check for any recalls on parts for your vehicle. It could save you headaches down the road.
After an Accident 
If you've suffered significant injuries due to an incident involving a poorly maintained vehicle, there's a good chance the driver of that vehicle could be held liable for damages, from medical bills to lost wages and more.  That's because drivers are legally required to use reasonable care on the road, avoiding reckless or negligent actions that could result in accidents.  Failing to maintain a vehicle could qualify as negligence if a driver cannot control it and it results in an accident. To discuss your situation, contact the experienced Kissimmee car accident attorneys at Salazar & Kelly Law Group, P.A. in our office today.