Electric Scooter Accidents on the Rise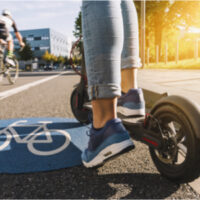 Electric scooters are all the rage these days, serving as a cheap, convenient way to maneuver through the streets of Florida.  Besides their convenience, scooter riders are enamored with the eco-friendly fun of the commute. Unfortunately, the joy of the ride diminishes quickly when accidents occur.
A Popular Ride
Here in the Sunshine State, riders have traveled millions of miles on scooters this year.  In Miami, half a million of those miles have been logged; in Fort Lauderdale riders have traveled double that amount.
Accidents 
One study by the American Journal of Otolaryngology noted that head and face injuries have increased by 300 percent in the past decade due to scooter injuries. Brain bleeds make up roughly half of those injuries.  Here in Florida, ER's have dealt with numerous issues related to these motorized vehicles.
Over 100 serious scooter accidents have occurred in recent months, resulting in at least one death.  One woman who rented a scooter ran a stop sign and collided with a vehicle, which tossed her several feet into the air.  Months after the accident, the woman remains hospitalized with a traumatic brain injury. While the majority of scooter injuries involve lacerations, abrasions, and broken bones, injuries to the brain are particularly concerning.
Restrictions
Although motorized scooters are supposed to be only for adults over the age of 18, underage children are often seen buzzing around town, some of whom wind up with injuries.  And while helmets are recommended, they are not required, putting riders at risk in the event of a collision.
Safety Tips
There are a number of things riders can do to increase their safety when riding these devices:
Choose to wear a helmet: This common-sense decision could be a lifesaver, and with the variety of effective, stylish, and even collapsible designs out there, you can surely find one that suits your taste. Elbow and knee guards aren't a bad idea either!
Focus on the ride: That means having eyes and ears available to detect potential dangers; put your headphones and cell phone away and tune in to the traffic.
Check your speed: Use your brakes, particularly when traveling in busy areas or when going downhill.
Obey Laws: Come to a complete stop when traffic lights and signs indicate as much, give pedestrians the right of way, and stay off of scooters if you're underage.
Avoid lightning storms: Scooters are a danger during lightning, so disembark immediately.
Ride Sober: Obviously, drinking impacts your ability to maneuver.  One CDC study found that one-third of accident victims had used alcohol prior to riding.
Check the scooter: Make sure it's in working order with properly inflated tires.
When You're Injured
If you incur a serious injury while riding an electric scooter, you may have legal recourse against the rental company if the scooter had a mechanical failure, or against a motorist who failed to adhere to local laws.  To discuss the possibilities, contact the knowledgeable Kissimmee personal injury lawyers at the Salazar & Kelly Law Group, P.A. for a free, confidential consultation today.
Resource:
nbcmiami.com/news/local/e-scooter-rides-on-the-rise-along-with-accidents/75733/