ATV Dangers for Kids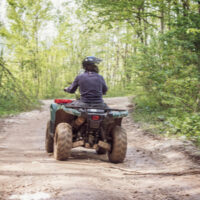 The Fourth of July was no cause for celebration for some ATV riders this year.  The holiday, known as the most deadly day of the year for ATV accidents, marked yet another serious accident involving an all terrain vehicle in Florida.
Tragedy Strikes
It happened before anyone realized just what was underway.  A 7-year old boy was behind the wheel of a Kawasaki Teryx4 on the Fourth of July, when, after a sharp turn, it suddenly flipped over in a field. The driver was thrown from the ATV, which subsequently rolled over him.  The vehicle, a 4-seater, was carrying three men, the 7-year old driver, a 4-year old and a 2-year old, none of whom were buckled up or wearing helmets or safety glasses.  The driver, that young boy, did not live to see his eighth birthday. The other two youngsters were hospitalized with serious injuries, while the three men experienced minor harm.  This horrendous accident demonstrates just how important it is to follow safety protocols associated with all terrain vehicles.
Play it Safe 
An ATV is not a toy.  The machine in question weighs 1,600 pounds and is made of steel, not plastic. These vehicles are motorized, and can travel at speeds well beyond what a young child would experience on a real toy like, say, a bicycle.  Florida state law requires operators and riders under the age of 16 to don protective eyewear and a helmet.  The ATV Safety Institute specifies safety tips in more detail:
Helmets should be DOT-compliant;
Goggles, long pants, ankle boots, and gloves should be worn;
Operate off-highway only;
Do not operate in conjunction with drug or alcohol use;
Carry only the number of passengers as there are seats;
Ride ATV's designed for your age;
Ride at a safe speed on designated ATV trails;
Enroll in a safety course prior to taking charge of an ATV.
Common Injuries
The Consumer Product Safety Commission (CSPS) reports 98,000 visits to emergency rooms across the country in 2015 alone due to ATV injuries.  These vehicles are associated with a number of injuries to children, often a result of the speed and power matched up against a lack of safety gear.  Common injuries include:
Skin lesions;
Contusions;
Fractures of the ankle, leg, or arm.
More serious injuries include traumatic brain injury, spinal cord injury, and injuries to the chest and abdomen.  Ultimately, these may result in fatalities.
Following an Injury 
Has your child been the victim of a serious injury while riding an ATV?  Was your child under the supervision of a trusted adult, who failed to insist on proper safety precautions?  If so, the experienced Kissimmee personal injury attorneys at the Salazar & Kelly Law Group, P.A. may be able to help.  Contact our office today for a free, confidential consultation.
Resource:
today.com/health/atv-safety-boy-dead-2-kids-injured-july-fourth-accident-t185929