Failure to Heed Traffic Signals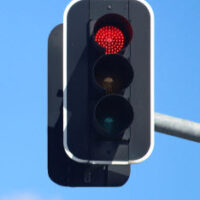 Anyone who's ever witnessed an intersection collision can testify to the hair-raising sounds of screeching tires, crunching metal, and shattering glass. In the lucky cases, no serious injuries occur. But all too often when one vehicle barrels through a red light into opposing traffic, that is not the case, and drivers or passengers suffer severe injuries, and in the worst cases, even death. If you have been the victim of a crash that occurred because someone recklessly ran a red light, the honest and experienced counsel of a local attorney could be useful.
Recent Intersection Calamities
Florida intersections have been the scene of far too many tragic accidents, causing heartbreak to Florida families:
A motorcyclist was killed after crashing into a turning vehicle in May of 2018;

When two cars raced through an intersection ignoring the 4-way stop, it resulted in one fatality and three people being hospitalized in February of 2018;

The deaths of two individuals ensued in Suwannee County after a semi-truck collided with a Ford F-150 in an intersection in May of 2018.
Florida Law
Drivers who speed through red lights, or who fail to come to complete stops at stop signs, frequent Florida roadways. Not surprisingly, these are violations of Florida statute:
Drivers are required to come to a complete stop at the limit line. If no painted line is present, the vehicle must stop before entering the crosswalk or intersection;

Once a complete stop has been made, the driver may inch forward slowly to look for traffic. If everything is clear, a right turn is permitted unless posted otherwise;

If origin streets are one-way, left turns may be made following the same procedure as for right turns.

If a signal light is yellow, drivers are being warned of the impending red. Motorists may proceed through a yellow only if they have already passed over the crosswalk or are in the intersection while the signal is yellow. Otherwise, they should stop.
Consequences of Pushing your Luck
Collisions can be very serious. As a matter of fact, hospitals have a rating system to classify injuries, as to their severity. In addition, two-thirds of accident victims suffer chest injuries, and over 30 percent experience head trauma.
The Aftermath
Following a serious collision, victims often struggle with recuperation from their injuries, while at the same time trying to manage horrific medical bills, time away from the job, and the inability to handle their normal responsibilities. It can be a lonely and overwhelming path. But with the knowledgeable and empathetic legal team at the Salazar & Kelly Law Group, P.A. on your side, the load becomes astronomically lighter. Contact us in Kissimmee today for a free, confidential consultation.
Resource:
leg.state.fl.us/statutes/index.cfm?App_mode=Display_Statute&URL=0300-0399/0316/Sections/0316.0083.html