Fatal Semi-Truck Crash in Florida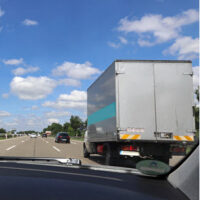 The Florida Highway Patrol announced a fatal crash involving a semi-truck and Honda took place on I-10 near mile marker 167 on Monday, September 18. According to the FHP troopers, the semi, traveling eastbound, drifted into the inside lane coming into contact with a second vehicle, a Honda Civic, which may have been attempting to pass the truck. Following the collision, both vehicles travelled onto the shoulder. The Honda hit a tree and stopped while the semi continued to drive into the woods, striking several trees. The driver of the Honda had minor injuries and the driver of the semi, Richard Williams, 44, was pronounced dead at the scene.
U.S. Large Truck Statistics
According to the Federal Motor Carrier Safety Administration (FMCSA), there were approximately 415,000 police-reported accidents involving large trucks in 2015. Of these, about 1 percent were fatal and about 20 percent caused injuries. While the 1 percent of fatal large truck accidents seems small, this amounted to 3,598 fatal accidents, which could have led to an even greater number of traffic fatalities.
Of fatal large truck crashes, 60 percent occurred on rural roads, 83 percent occurred on weekdays, and 35 percent occurred between 6 p.m. and 6 a.m., which typically includes dusk, night, and dawn. In 74 percent of deadly truck crashes, the first harmful event was a collision with a vehicle while in transport, meanwhile rollovers were only the first harmful event in 4 percent of fatal large truck accidents.
The FMCSA reported Florida had 197 deadly large truck accidents in 2015. Based on an estimated state population of more than 20 million people, the rate of fatal large trucking accidents was 9.72 per million people.
Your Rights After a Fatal Truck Accident
If you suddenly lost a spouse, parent, or child in a truck accident, contact our experienced Kissimmee wrongful death lawyers right away. If the truck accident was caused by another person's carelessness, recklessness, or intentional misconduct you may have the right to seek compensation.
If there is evidence of the other party's negligence or wrongful act, then the personal representative of your loved one's estate may be able to file a wrongful death claim. Through this type of lawsuit, the representative can pursue compensation for:
Medical expense
Funeral and burial expenses
Loss of earnings
Loss of your family member's financial support
Loss of your family member's services
Loss of your family member's companionship, care, and protection
Mental pain and suffering
If damages are obtained through the claim, then the compensation can be apportioned to certain family members based on their injuries. For example, a surviving spouse can recover compensation for the loss of the decedent's companionship and protection and their mental pain and suffering. However, a surviving parent may not be eligible for the same.
Contact Our Florida Wrongful Death Attorneys
If your family member was killed in a truck accident caused by someone else's negligence, do not hesitate to reach out for trusted and experienced legal advice. Our Kissimmee attorneys of Salazar & Kelly Law Group, P.A. are here to explain your rights and legal options. Call us at 407-483-0500 to schedule a consultation.
Resources:
wctv.tv/content/news/FHP-reports-fatal-crash-in-Gadsden-County-445531263.html
fmcsa.dot.gov/safety/data-and-statistics/large-truck-and-bus-crash-facts-2015#A4