Safety on the Road: Tips to get you there Safely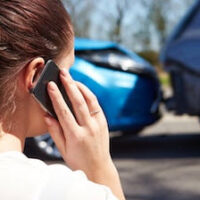 You've probably known people who are afraid of flying, parachuting, or bungee jumping.  And why not?  They can all be a bit intimidating.  It would likely surprise some to know that the truth is, you're really taking your life in your hands every time you get in an automobile. That's because automobile accidents are related to more injuries and deaths than all three of the previously mentioned activities combined.  Naturally, with roughly 270 million vehicles on the road in this country, it stands to reason that there will be a significant number of accidents. And there are!  If you or a loved one is injured or killed at the hands of a reckless or negligent driver, it may behoove you to seek the counsel of a local personal injury attorney to explore the possibilities of financial remuneration.
Critical Driving Errors
Data  indicates that more than seven million people report being in traffic accidents each year, resulting in two million injuries and nearly 40,000 deaths.  The cost associated with this carnage exceeds $230 billion annually.  What can you do to increase your chances of making it home safely? Experts have several ideas:
Avoid distractions. Yes, that means put away your phone, wait to eat until you get to your destination, and handle personal grooming at home. Drivers who allow themselves to lose focus are at greater risk of causing an accident than those who participate in any other dangerous driving behavior. This is serious business!

Adhere to posted speed limits. It doesn't matter if you're running late; it doesn't matter if there are no other vehicles in sight.  Those speed postings are there for a reason, and failing to obey them could lead to tragedy.

Never drive while impaired. Too many people rationalize that they feel pretty good, or that they only have a short distance to drive, and wind up getting behind the wheel when they shouldn't. You risk your own life and those of others when you choose to drive after using drugs, alcohol, or mind-altering prescriptions.

Keep your cool! Aggressive tactics like weaving through traffic or tailgating are dangerous and aggravating to other drivers, who may seek retaliation.

Know that red means stop. Blasting through red lights or rolling through stop signs can be equally dangerous to other drivers, not to mention bicyclists and pedestrians.

Use caution in construction zones. The flag workers, flashing yellow lights and arrows, cones, and slow-moving machinery can lead to confusion and frustration.  That's all the more reason to take it slow and pay close attention to all the moving parts on the roadway.

Take care when passing on two-lane highways. Never cross a solid line, and when you do have an opportunity to pass, give yourself plenty of room!
When you don't make it home Safely
Unfortunately, despite your own careful approach to driving, there are others on the road who simply make irresponsible decisions that impact you and your loved ones.  If you've been left trying to recover while wondering how you're going to pay the hospital bills, let the ethical and efficient legal team at the Salazar & Kelly Law Group, P.A. help.  Contact our Kissimmee car accident attorneys today for a free consultation as to your rights and the claims process.