Serious Injury Following a Fall?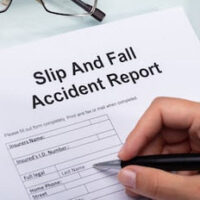 Let's say you're out and about having a wonderful day, when the unthinkable happens:  you slip in a public venue, crashing to the ground. Not only is your pride hurt; you know immediately that you've incurred some serious injuries. A visit to the emergency confirms this, and as the bills start coming in, you wonder if the venue can be held liable for your injuries. A capable local personal injury attorney can answer this and other questions related to the accident.
Legal Questions
One key issue to consider following a slip and fall accident is the statute of limitations in Florida. Victims have four years from the time of the injury to file a suit. Before filing, it is worth considering what constitutes liability.
Florida statute considers certain key factors when determining liability:
Duty of care: When injuries occur on property that is owned or leased by another individual, the courts will examine the extent to which the property was maintained. Clear violations of reasonable safety expectations could lend themselves to a claim of liability. Examples might include:
Failure to address safety issues, such as a spill in a lobby, in a timely manner;
Problems with flooring: Uneven tiles, rugs that don't adhere to the surface, and gaping holes that are not cordoned off are all potential lawsuits waiting to happen;
Stairwells that are unsafe: Poor lighting, insufficient or unsecured railings, and uneven steps could all lead to injuries;
Cluttered walkways: When obstacles make maneuvering through an area difficult, falls are much more likely.
Notice: This refers to the reasonable time frame in which a property owner is expected to address a hazard. For example, if a bolt holding the railing along the stairway has come loose, it should be repaired within hours of noticing the problem, not days or weeks. And claiming a lack of awareness doesn't generally work with issues that should be obvious to a typical person.
Dangerous Condition: When property was used as intended and an accident resulted, the property owner may be held liable. If a shoelace becomes snagged in the escalator and injury results, liability may be an issue. On the other hand, if a parent loses his grip on a stroller while riding an escalator, resulting in injuries, the property owner will likely not be responsible, since escalators are not intended for strollers.
Damages: Costs associated with the injury will ultimately be considered if the other elements of the case are well established. This may include medical bills, loss of wages, and potentially punitive or other damages.
Advocating for Victims
At the Salazar & Kelly Law Group, P.A., our legal team is committed to advocacy for victims of accidents. A fall can result in a painful and lengthy recovery, and extensive medical bills. Let us go to work getting the financial support you deserve. Contact us in Kissimmee for a confidential consultation today.
Resource:
leg.state.fl.us/Statutes/index.cfm?App_mode=Display_Statute&URL=0700-0799/0768/Sections/0768.0755.html
https://www.salazarandkelly.com/when-a-fall-leads-to-injuries-who-is-liable/