Have you been Injured in a Sidewalk Accident?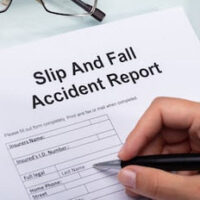 One of the reasons so many people love Florida is because the weather allows us to walk around and enjoy the sun just about any time of year.  But what happens when your enjoyable stroll is ruined with a painful fall on uneven pavement?  Or, even more commonly, what if your fall occurs on a stairway that is lacking handrails?  If you've sustained serious injuries in these types of circumstances, it's time to contact a local personal injury attorney.
Florida Law
In general, municipalities are responsible for maintaining sidewalks, making them potentially liable in the event of an accident.  However, certain areas expect homeowners to be responsible for the upkeep of walkways surrounding their property, meaning the property owner might be liable for injuries. Depending on the location and circumstances of the incident, an injured party may be required to file a notice of claim with a particular government entity.  In other situations, the simplest thing to do would be to file a lawsuit.  Your personal injury attorney can guide you through this.
Poor Maintenance
What exactly constitutes poor maintenance of a walkway?  According to the U.S. Department of Transportation, pedestrian infrastructure require attention if there are issues that may cause pedestrians to trip or when walking routes become inaccessible.  Even issues such as vegetation that encumbers the pathway may require maintenance.  The basics that must be addressed include:
Displaced pavements;
Cracks, holes, and deteriorating surfaces;
Problems with grades;
Issues related to the grade or with ramps.
Requirements for Public Stairs
According to the International Building Code (IBC), any stairs that are associated with public space must meet certain safety standards related to the width of the stairway and the necessity for a landing for stairs more than 12 feet high.  Platforms and surfaces must have guards and handrails, and open-sided railings cannot have wide gaps that a child could become stuck in. The tread and rise requirements are very specific, accounting for the safety of the elderly and children.
Questions After a Fall
If you've been injured in a trip and fall accident, there are a number of questions that need to be addressed:
What is the statute of limitations to address the injury?
How is compensation determined for this type of accident, and whose insurance company will pay me?
Are costs related to the injury—such as lost income, pain and suffering, and other out-of-pocket costs—reimbursable?
Was my accident due to gross negligence on the part of the property owner or a government entity?
These are the kinds of issues that your experienced Kissimmee slip and fall attorneys at the Salazar & Kelly Law Group, P.A. in can discuss with you.  Schedule a confidential consultation today.  We can even visit you during your hospital stay if necessary to work out a plan for justice.
Resource:
safety.fhwa.dot.gov/ped_bike/tools_solve/fhwasa13037/chap5.cfm
https://www.salazarandkelly.com/students-at-risk-at-school-bus-stops/