Can You Sue Your Employer Over a Construction Site Injury?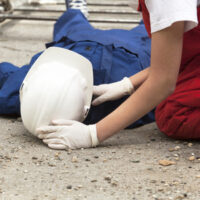 Workers in the construction industry face a slew of hazards that are simply inherent to the work.  Heavy machinery, sharp objects, and multiple levels naturally expose employees to potential injuries more often than, say, the types of injuries an office worker may be exposed to.  In fact, 20 percent of all workplace fatalities across the nation involve construction workers.  For those who make construction work their life's work, there is a .5 percent chance of experiencing a fatal injury on the job.  The fact of the matter is, the Occupational Safety and Health Administration (OSHA) publishes strict guidelines related to construction site safety, giving employers the structure they need to provide training and to minimize accidents on construction sites.  When employers fail to adhere to those OSHA rules, they put workers at risk.  If you or a loved one has been injured or killed due to unsafe working conditions on a construction site, you may have grounds for a lawsuit to collect damages from the employer.
Common Violations on Construction Sites
Mitigating the many potential hazards on a job site is the moral and legal obligation of every employer.  On a construction site, because the potential risks are so prolific and varied, the responsibility becomes more critical than ever.  The most common dangers cited by OSHA cover a wide array of safety violations:
Electrocution dangers related to improper wiring;
Nonexistent or insufficient training related to falling and other hazards;
Using machinery that lacks necessary guarding and tripping devices;
Employees working without proper safety equipment, including harnesses, respirators, steel-toed boots, goggles, helmets, etc.;
Hazardous materials that are not properly marked, transported, stored, and used;
Improperly assembling and maintaining scaffolding and ladders;
Having untrained workers running forklifts and other equipment;
Failing to keep faulty machinery shut down until repairs and/or maintenance occurs;
Failing to provide proper signage and warnings related to hazards on site.
Beyond Workers' Compensation Claims
While Workers' Compensation will address a portion of the problem following a workplace injury (medical expenses, a percentage of lost income), an employer's failure to properly train workers or to maintain basic safety protocols and procedures can make them liable for additional damages.  When workplace conditions violate OSHA regulations, particularly if those conditions are well-known and persist over a period of time, employers should be held accountable for their failure to address those conditions.
Following an Injury
Have you or a family member suffered a serious injury or death due to your employer's noncompliance with OSHA regulations?  If so, it's time to fight back.  A lawsuit has the potential to not only bring financial remuneration your way; it will teach the employer that ignoring the safety and well-being of their employees will not be tolerated.  Who knows how many other employees will be spared a needless accident down the road?  To discuss the details, schedule a confidential consultation with the experienced and aggressive Kissimmee personal injury attorneys at the Salazar & Kelly Law Group, P.A. today.
Resource:
ftsgps.com/blog/avoiding-the-most-common-safety-violations-contractors-are-cited-for/
https://www.salazarandkelly.com/probation-violation-concerns/