Motorcycle Safety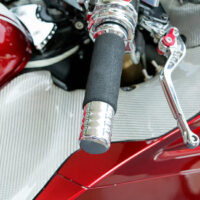 Motorcyclists will tell you there is nothing like the feeling of freedom one experiences on the open road. The power of the bike beneath you, the wind in your face—it's enough to elevate you right out of an otherwise mundane day. But what happens when the exhilaration of the ride winds up costing you your health—or worse—your life? That's when an experienced personal injury attorney may be needed.
Recent Tragedies in the News
One motorcyclist who was reportedly driving erratically on I-95—doing wheelies and other reckless maneuvers– smashed into a pole, and was thrown onto another road located below the highway. Unfortunately, he was dead.

A man on a Harley was rear-ended and pushed into another lane, where a passing vehicle rammed into him. The motorcyclist died at the scene,

When a motorcycle switched lanes and ran into a pickup truck, the motorcycle skidded to a halt, sending the rider and his passenger to the emergency room at St. Mary' Hospital.
Florida Motorcycle Laws
When a motorcycle collides with another vehicle or with a stationary object, particularly while going at high speeds, riders are at risk of serious injuries that are often life threatening. Simply said, there's not much protection from harm on a bike. In Florida, a number of factors combine to make it the state with the most motorcycle deaths nationwide per year. Florida law (Statute 316.211) is designed to create the safest possible circumstances for these riders, and includes the following provisions:
Approved headgear is required for all riders under age 21 if the bike is capable of surpassing 30 MPH;
Riders age 21 and above may forego the wearing of a helmet if they choose to purchase at least $10,000 of medical insurance;
Anyone operating a motorcycle must wear protective eyewear.
Tips for Motorcyclists
The Florida Department of Transportation (FDOT) has worked with stakeholders to build resources and programs focused on motorcycle safety. The aim is to reduce crashes, along with the associated injuries and fatalities. One program, the Ride Smart Florida initiative, is directed toward motorcyclists themselves:
Say no to drinking and riding
Make yourself more visible to motorists
Always wear a helmet when riding
Ride in control (within legal and personal limits)
Train regularly and get endorsed

Tips for Drivers
If you're behind the wheel of a motor vehicle, there are things you can do to protect motorcyclists, as well:
Be aware of them by checking mirrors and blind spots before changing lanes,
Watch for them in intersections;
Avoid tailgating motorcycles;
Give motorcyclists plenty of room.
Following an Accident
In the event a motorcycle accident impacts your life and livelihood, you need strong, ethical legal representation. At the Salazar & Kelly Law Group, P.A., that is exactly what you will get. Contact us in Kissimmee to schedule your free, confidential consultation today.
Resource:
fdot.gov/safety/2a-programs/Motorcycle-Safety.shtm